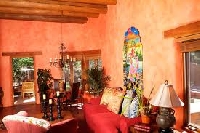 Mexican home decor features rich and inviting design elements
Homes that feature traditional Mexican home decor are often warm, vibrant and inviting. There's just something about walking into rooms that are adorned with rich colors and exciting patterns that often makes you feel at ease.
If you're interested in decorating your space with these home accents, you will find that a little imagination and inspiration will help you create a wonderful ethnic interior.
Color Style
When people think about this type of style, they often imagine brightly colored fabric and native Mexican pottery that feature extensive patterns. For the most part, they are correct. this decorating palette is filled with lots of hues and objects that are fitting for just about any room or design concept.
This style is typically known for its vibrant shades, which usually features two opposing color pallets. The first is filled with rich earth tones that are what often make this style recognizable. These shades usually consist of pinks, tan, browns and dull reds.
The other pallet contains bright hues, such as blues, yellows and reds. The juxtaposition of these two color schemes makes this exotic decor so unique. You can find such a design technique on ceramics, clothing and even buildings.
~
When decorating, you can choose to showcase all of the signature hues, or incorporate just a few into your color scheme.
Furniture Style
Depending on which room you decide to decorate, you will likely find the furniture you are looking for. Furniture of this nature usually features wood panels with metal details. Again, the juxtaposition of these very different materials is one of this technique's signature elements.
Pine is often used in furniture; however, you may also see reclaimed wood as a piece's base. Decorations may feature twigs or other smaller pieces of wood. You will also likely find those metal elements incorporated into the piece, as well.
For example, your bed may feature a wood base, but have a wrought-iron headboard. Dressers, cupboards and similar furniture will likely contain metal pulls. The contrast of the two materials makes furniture of this style one-of-a-kind.
Materials
Along with wood and metal, Latin furniture and textiles feature a range of material. Clay is often used to make items such as dishes, jars and containers. The colors found on these items are often a combination of the rich hues and the vibrant tones this decorating style is known for.
Cotton and wool often make up draperies and linens found around homes that feature such a style. Art made in the Mexican style is usually composed of glass, tin, wood and clay, which can create a variety of textures throughout your home.
Putting Your Ideas to Work
When it comes to Mexican home decor, there isn't a right or wrong; there is simply what you like. If you really want to incorporate these elements into your home, you can paint the walls the signature shades, as well as feature furniture, textiles and decorative accents throughout.
This kind of design concept only works for people who aren't afraid of having lots of color in their homes and many different textures and materials.
However, if you only want to feature a "touch" of this design, you can display a limited amount of items here and there.
Mexican art and glassware add a small amount of the color and style that is indicative of such a design technique. Placing a few pieces in a room or your home could add just the right amount of flavor.
Installing a piece of furniture into your room could be exactly what you are looking for. However, if it is too much for you, placing a blanket or a few throw pillows that feature the style may make you feel more comfortable.
However you decide to incorporate the style into your home, the most important aspect is to have fun with it.
Resources:
SF Gate: About Mexican Home Decor
Ehow: Mexican Interior Decorating