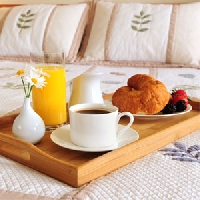 Mother's Day recipes to pamper your mother with breakfast in bed
Give your mom the ultimate in pampering and relaxation this Mother's Day when you treat her to a delicious and relaxing breakfast in bed.  Gather up the pillows, fill a vase with her favorite flowers and check out one of these festive Mother's Day recipes. Your mother will feel like a queen for a day.

Mother's Day Stuffed French Toast
This rich and tasty treat is sure to please mom.  And best of all, unlike regular french toast, you assemble it all the night before.  In the morning, just pop it in the oven and wait for the tempting aromas to fill the kitchen.
Ingredients
3 cups day old raisin bread or cinnamon raisin bread, torn into 1″ cubes
1/2 c light cream
3/4 c milk
4 eggs, lightly beaten
1 tsp cinnamon
1/2 tsp salt
1/4 c dark brown sugar
1/4 c real maple syrup
1/2 tsp pure vanilla
1  8 oz package cream cheese, cubed
1 1/2 c raspberries or blue berries or sliced strawberries
1/2 c butter, sliced or cubed
Grease a 9 x 11 baking pan.
Put 1/2 of the bread into the bottom of the pan. 
In a separate bowl, combine the cream, milk, eggs, cinnamon, salt, vanilla, sugar and syrup. 
Beat until slightly foamy and well mixed. 
Set aside.
Distribute the cream cheese evenly over the bread in the pan.
Top with the berries.
Cover with the remaining bread cubes.
Pour the milk and egg mixture slowly over the entire pan (if you pour too fast, the bread and filling will mix.)
Dot the top with the butter.
Cover the pan tightly with foil and refrigerate overnight.
In the morning, heat oven to 350 degrees F. Leave pan covered and place in oven.  Bake for 30-40 minutes or until hot and bubbly throughout.  Serve hot with extra syrup, plus chilled berries for garnish. Perfect with hot herbal tea or rich cocoa.
~
Muffin Cup Eggs
Here's another one of my favorite Mother's Day recipes. It's simple yet special enough for mom's day of celebration.
6 eggs
3  tbls all-purpose flour
3 tablespoons plus ??® cup butter
1 1/4 c half-and-half
1 c grated sharp Cheddar cheese
1 teaspoons powdered mustard
1/2 teaspoon Worcestershire sauce
Salt and pepper, to taste
3 English muffins, halved
2 medium tomatoes, sliced
Preheat the oven to 350 degrees F.
Grease a 6 cup non-stick

muffin pan

Drop one egg into each cup
Bake for 8 to 12 minutes or until set.
Heat the flour and 3 tablespoons of the butter in a heavy saucepan over medium heat.
Cook for two minutes.
In another saucepan, heat the cream, making sure it does not boil.
Gradually stir the cream into the flour and butter mixture until it begins to thicken.
Stir in the cheese, mustard, Worcestershire sauce, and salt and pepper.
Butter the English muffin halves using the remaining 1/4 cup of butter and place one slice of tomato on each.
Top with a baked egg, then the cheese sauce.
Serve hot, with fresh fruit and orange juice
Even if you aren't handy in the kitchen, or don't have time to try these Mother's Day recipes this year, you can still make mom's day special with a no-cook breakfast in bed.
On a pretty tray, place mom's favorite hot or cold breakfast beverage, a croissant, muffin or danish on a nice plate and some fruit. Add a flower or two, and you Mother's Day card and you have everything you need for her perfect Mother's Day breakfast in bed.