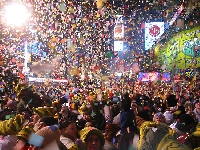 What will you be wearing when the ball drops? Creative new years outfits
New Years outfits can range from sophisticated and glamorous to outrageous and unconventional.  New Years Eve is an ideal occasion to leave behind old traditions and try something new and unusual.  When the ball drops, what will you be wearing?  Start the New Year off right, and make sure you are dressed to get noticed!
Here are some creative ideas for new years outfits:
Casual, Comfortable yet Sophisticated
Skinny jeans have been one of the hottest women?s trends for 2009.  If you plan to be out and about this new years eve, these long pants are sure to keep you warmer and more comfortable than skirts or stockings.  Plus, it?s easy to spice up your skinny jeans with a formal sequined top, some sparkling rhinestone jewelry, chandelier earrings, a cuff bracelett or a trendy purse.  Add some glitter eye shadow for a truly dazzling look.  Ankle booties, a black blazer or vintage leather jacket can really put the final touches on these simple but sophisticated new years outfits. 
Elegantly Vintage
If you are headed to a formal affair, gala or black tie event for New Years Eve, don?t be afraid to have a little fun with sequins, bright colors or dramatic ball gown necklines.  For a vintage look, try transforming an old prom dress into a new years outfit.  You don?t have to spend a fortune to look fabulous.  Peruse your local consignment shop or vintage boutique for some retro chiffon prom dresses or sultry leopard print cocktail dresses to transform into new years outfits.  Add an antique broche or a simple string of pearls to pull together a truly elegant look.
~
Clever Costumes
Be sure to inquire about the dress code for any New Years Eve festivities you plan to attend.  Many new years eve parties are costume parties, where new years outfits are sure to be wild, wacky and over the top.  Traditional New Years Eve costumes include father time or baby-themed costumes.  Other unique costume ideas include Mardi Gras themed costumes, gothic costumes, time period outfits such as flapper dresses or top hats, celebration themed costumes such as full-body champagne bottle outfits or martini glass costumes, or even patriotic costumes with red white and blue.