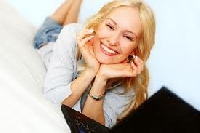 Tips for online shopping on Black Friday to grab great savings on the web
Online shopping on Black Friday offers consumers an easy and stress-free way to score major deals. No longer do they have to stand in long lines, fight with aggressive customers or shop throughout the night to save loads of money; they can do it all at home right from their computers.
Before you attempt to take advantage of the busiest day of shopping's deals, take a look at these tips, which can help you become more prepared and organized for the experience.
Tune Up Your PC
Whether you plan on purchasing your deals on your PC, laptop or tablet, you'll want to make sure it is working at its best. If your device jams up or works super slow on the big day, you'll probably become frustrated and may even miss out on some deals.
Performing routine maintenance on your device, such as removing old files, disc defragmenting and clearing out memory space, may make your computer work faster. When your device works better, you can make your experience more enjoyable and get your shopping done quickly.
~
Prepare
In order to take advantage of the best deals, visit the sites you plan on frequenting a few days ahead of time. They may feature the sales they intend to have. Knowing ahead of time what you plan on purchasing can save you time and prevent you from missing out on deals, if the product sells out before you are able to find it.
Comparing the deals on all of the different sites you plan on visiting a few days ahead of time also helps you to get prepared for the big day. Find the item you want to purchase, then take a look at many different sites to find the best deal. Doing this work ahead of time allows you to go directly to the best site on that day, which can make things less stressful and may prevent you from missing out. 
Make a list of the stores and deals you plan to take advantage of. Knowing exactly what you plan on doing ahead of time allows you to score those sales and better enjoy the experience.
Update Your Information
In your excitement of getting the item you covet at an incredible price, you may forget to make sure your information is accurate. Missing this important detail may cause your merchandise to ship to the wrong address, or it may be charged to the wrong credit card.
A day or two before the big shopping extravaganza, go to the sites in which you plan on visiting and make sure all of your stored information is correct. Enter your information if you've never been there before. Doing this ahead of time can save you some stress on the day and also ensures your information is accurate.
Talk to the Retailer
Many retailers offer the same doorbuster deals on their sites as they do in the stores. However, some may not. Knowing ahead of time if these same bargains are available on the site can prevent major disappointment and allow you to plan where you intend on purchasing the items.
Often times, these deals are on expensive items like electronics or jewelry. Since you have the opportunity of saving so much money, missing out can be devastating, so make sure you find out ahead of time.
Call the stores ahead of time and find out if these same deals are being offered. If not, you will need to decide if it is worth going to the store to score this deal, or if you can do without it.
Know the Shipping Details
One of the biggest advantages of shopping on Black Friday is the benefit of free shipping. Many retailers tout this deal in order to draw more customers to their site. However, you'll need to read the details.
Some sites will offer this deal on every item. Others, however, may only offer the deal if you spend a certain amount. Therefore, before spend your money thinking you'll get it shipped at no cost, read the fine print to ensure you aren't taken advantage of.
Online shopping on Black Friday can save you lots of time, money and energy, as long as you do your homework first.  
Resources:
PR Newswire: Online Black Friday Shopping Tips and Tricks Helps Shoppers Get Deals at Home