When you buy something using the retail links in our posts, we may earn a small commission. Catalogs.com does not accept money for editorial reviews. Read more about our policy
here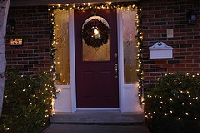 Outdoor holiday decorations tips for creating perfect festive displays
This year, I'm looking forward to a major milestone: Christmas at my house. For the past 30 years, my family has held Christmas at my mother's house. She had the best food, best presents, biggest tree and most elaborate outdoor holiday decorations. Since we're starting a new tradition at our house, it's time to up the ante, starting with our outdoor decorations.
When it comes to outdoor holiday decorations, many people walk the fine line between classy and tacky. For many homes, there's only one string of lights before you're considered "overboard" which is why it's important to plan your outdoor decor carefully.
I enjoy riding through neighborhoods at Christmas to see other people's outdoor holiday decorations and get ideas for my own home. From large nativity scenes to blow up snowmen and reindeer, you have a huge inventory of ideas to choose from. Whether you've just moved into your dream house or you're decorating the outside of your small apartment, these helpful tips will help you create the perfect look for the outside of your home this holiday. 
~
– Making the outside of your home look warm and inviting actually starts with the inside. One of the most beautiful sights guests and passersby can see is your Christmas tree in the window. By strategically placing your tree in front of a prominent window in your home, you can greatly add to your Christmas curb appeal. Also, placing battery operated candles in each window can add a cozy, yet simple touch.
– Don't make the mistake of walking into a retail store without a clear vision for your outdoor holiday decorations. Before you even start buying decorations and front yard displays, it's important to set a budget and stick with it. Stand in front of your home and map out where you'd like everything to go. If you're a a strict organizer, you can even take a picture of your home, print it out, then draw where decorations should go. Be sure to settle on a theme such as Santa, the nativity story or snowmen.
– When planning your outdoor Christmas decor, take advantage of the features of your home. If you have columns on the front of your home, wrap them with lighted or plain garland and place bows on the top of each column. For smaller apartments with balconies, hang garland on the railing with a bow at the center.
– Before breaking out the blow up snow globe or Santa and his reindeer, take the time to consider the size of your yard. Your outdoor holiday decorations should never over power your home or block the view to your Christmas tree.
– When it comes to lighting, it's best to keep in mind that less is more. You don't want your house to be seen from space once you finish stringing lights. Make sure all lights and lighted decor have easy access to plugs and count how many extension cords you think you'll need. Try to limit the amount of lighted decor you use and use only outdoor LED lights and displays. This will allow you to save money on your energy bill.
By keeping these tips in mind this holiday season, you can create a beautifully inviting outdoor display that is sure to kick your family's holiday spirit into high gear.