Paris springtime romance
By Catalogs Editorial Staff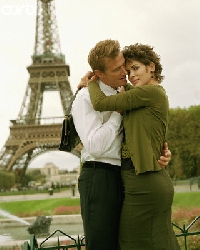 Let Paris springtime magic bring romance into your life
It?s no accident that Paris has a reputation as the most romantic city in the world.  People have tried to pin down the reason an air of romance envelops Paris.  Some have pointed to the fine foods, some to the city?s rich history of art and theatre, others to the beauty of its residents.  Whatever the reason, Paris remains the City of Romance. And a Paris springtime romance holds a magic all its own.
If you have a love, there is no better time to visit this legendary city than in the spring.  Count yourself fortunate to have love in your life, and let Paris work her magic on your relationship. You both will come home all the better for it, and the memories will last a lifetime.
But if you are searching for that elusive someone, there is no better place on earth to look for love, romance and dreams come true than Paris in the springtime.
Before you continue reading about the Paris springtime romance there is a special announcement we would like to share with you. Catalogs.com has negotiated special medicare rates for our vibrant community of seniors. If you are over the age of 60, you can head over to our Seniors Health Section which is full of information about medicare. All you need is your zip code and a few minutes of your time to potentially save 100s of dollars on your medicare bills.
Travel on a whim
The nature of romance is unpredictable.  So what better way to begin your journey than on a whim? Make your decision to go to Paris, book your tickets the same day and begin to pack your bags. Bargain flights abound right now, so booking a round trip for under $500 is not out of the question.  Set aside a week or two from work, and let your adventure begin.
Pack light. Or not at all. Whatever you may need upon your arrival will be available in Paris.
Stay where the tourists are not
Skip the big hotels and steer clear of the chain accommodations. You did not travel to Paris to stay in a hotel that looks exactly like the one you stayed in on a business trip to Fort Wayne.  Look for the small hostelries and inns that hide on the back streets of Paris.  While luxuries may not abound in these places, charm and style will more than compensate for any lack.
Most American travelers insist on a private bathroom, but beyond that requirement, surrender air conditioning and elevators for breathtaking views of the Paris rooftops or a room decorated by one of Paris? up and coming artists. What better place for a Paris springtime romance than the hidden back garden of a tiny hotel, a glass of vin ordinaire in hand and a book of poetry close at hand?
~
Savor the tastes of Paris
Paris is known for fine dining, but some of the most memorable tastes of Paris are found in out of the way family cafes.  Most of the fancy restaurants in Paris are closed on the weekends, so take that time to explore the sidewalk caf?s and ethnic flavors of Paris.  Your Paris springtime exploration might just yield a soul mate among your fellow caf? patrons.
Or simply visit one of the many shops and street vendors to assemble a feast all your own. Crusty bread, an assortment of creamy cheeses and a bottle of wine are perfect for a park lunch or an impromptu dinner while gazing up at the lights of the Eiffel Tower.
The shop keepers in Paris are used to offering samples of their cheeses and wines before a sale is made, so feel free to taste before selecting the perfect combination of wine and cheese.  Add some liquor-soaked prunes or salty olives to your feast for a uniquely Parisian gourmet experience.
Just where you least expect
Let your senses decide where you will go in Paris. Stash a map in your bag or pocket if you?re worried about finding your way home each evening, but otherwise rely on your eyes, ears, nose and of course, heart to guide you in exploring the city. Paris is filled with tiny galleries and huge museums offering feasts for the eyes, bookstores crammed with history and possibility as well as that wonderful scent of old books. Follow your ears to musical venues ranging from pocket-sized jazz caf?s to exciting dance clubs.
If you want an overview of the city before you begin exploring, skip the noisy tourist trams and hop on a city bus.  For a few dollars, you?ll see the city of romance, sans annoying tour guide monologues and whining visitors expecting an Americanized version of Paris.  Take a pretty notebook with you to jot down interesting spots you want to return to after the bus ride, or get off and explore before continuing on your tour.
Your Paris springtime adventure awaits
The French know life is brief and romance is fleeting. If romance is what you?re seeking, now is the time! Paris awaits!  Bon voyage!
Popular Savings Offers