How to wear patterned socks
By Catalogs Editorial Staff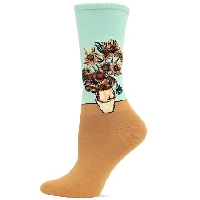 Kick up your look with some seriously stylish socks!
Sometimes, you just want to add that little extra pop to your outfit. It might be because it's a holiday, and you want to look festive. Or maybe its just a special day or you want to give new life to an old outfit. Even a conservative suit can get a boost from the right socks. 
Picking out a pair of cheerful socks with patterns can be a great (and inexpensive) way to perk up your look. Not sure how to wear patterned socks?
Here are some tips to help you choose the right look … and the right socks. 
Before you continue reading about the How to wear patterned socks there is a special announcement we would like to share with you. Catalogs.com has negotiated special medicare rates for our vibrant community of seniors. If you are over the age of 60, you can head over to our Seniors Health Section which is full of information about medicare. All you need is your zip code and a few minutes of your time to potentially save 100s of dollars on your medicare bills.
Holiday socks
When Halloween or Christmas rolls around, it's fun to get decked out from head to toe in seasonal fashions. But when the occasion isn't right for a bright Christmas sweater or ghoulish Halloween sweatshirt, you can still show a bit of holiday spirit with patterned socks trimmed with your favorite characters or seasonal designs. 
If you're especially daring, you can even choose socks trimmed with tiny bells, or a pair decorated with ribbons around the top. Dare to wear a pair peeking out of your winter boots, with some sexy heels or under your coziest moccasins.
~
Floral socks
Socks decorated with flowers are a wonderful choice when spring and summer rolls around. Choose solid colored socks with tiny flowers to match your outfit. Or go bold and pick out a pair of socks with all-over florals. Either way, try wearing them wth a juanty pair of ballet flats or classic Keds sneakers. 
Argyles

One of the most classic looks in socks is still one of the most popular ones. Argyles are a wonderful choice for women or men. Those criss-crossing stripes of color work as well with jeans as a business suit, so they give everyone a chance to say no to boring black or blue socks without crossing the line. (Wherever that line might be.) 
Cartoon characters
Now you might think that cartoon character socks are for kids. And they are. But they're also for too-cool-to-be-mainstream teens, too-cute college students, fun-loving parents, and young-at-heart seniors. In fact, when it comes to patterned socks, character socks are the ones that cross all age and gender lines. 
Just pick your fave, whether it's Mickey or the Animaniacs, and slip your feet into some lighthearted fashions. Pair them with almost any shoes, from running shoes to dress shoes (come on….you know you want to sport some Dilbert socks at work!) 
Stripes and polka dots
If you're new to the idea of patterned socks (so sorry about all those years of dull solids!) basic designs like stripes or polka dots are a great way to ease into wearing designs on your feet. 
You can find socks with simple designs in subtle patterns or bright and bold shapes; the choice is yours. 
Try wearing socks that match your outfit, your purse, your tie or even your eyes. Or add a shock of color like aqua, lemon yellow, or blazing red to a simple outfit of blue, white, grey or black.
The best thing about socks…
Well, the best several things. FIrst, they're one of the least expensive fashion accessories. Sure you can find $75 cashmere socks at some high end men's stores — but you can also find some really awesome socks for under five bucks. 
Second, socks are small so you can have LOTS of pairs in one dresser without crowding out the rest of your clothes. Try doing that with sweaters, jackets, purses or even shoes. 
Third, they're not a serious piece of clothing. Suits are serious. Dresses are serious. Even winter coats can be pretty darn serious. But socks? They're just colorful (or not so colorful) things that cover your feet. Who could be serious about that? So socks are, by definition, more fun than other clothes. 
Fourth, they cover up your gnarly toes. You know it's true!  Unless you hit the pedicurist every week, odds are your naked feet are pretty ugly. Socks let you spare the rest of us from seeing that mess! 
Finally, there is no shame in wearing the same socks as someone else. It's not like ball gowns or wedding dresses. You can still hold your head up if you see two other people in the same room sporting the same pair. Try that with a prom dress! 
So go for it!
Take a chance. Get some seriously, awesomely patterned socks and give them a spin. You may never go foot commando again!
Popular Savings Offers