Great places to volunteer over the summer
By Catalogs Editorial Staff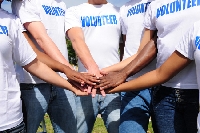 Great places to volunteer over the summer for experience-building
Summer is the time that most of us start thinking about vacations, visiting relatives, and taking trips to the beach. However, for some (such as college students on summer break) it is a perfect opportunity to put in a few hours of community service. 
Here are some of the best places to put your time to good use for yourself and your community. The benefits of volunteerism are many – for both you and the world.
 
Church
Church might seem like the most obvious place, but many are hesitant to volunteer at churches if they are not a congregant. Churches, however, are generally grateful to accept charitable help from any member of the community. It is important to remember that while churches are generally ties to a specific form of faith, one need not participate in every facet of the church to join them in doing good works for the community. 
Before you continue reading about the Great places to volunteer over the summer there is a special announcement we would like to share with you. Catalogs.com has negotiated special medicare rates for our vibrant community of seniors. If you are over the age of 60, you can head over to our Seniors Health Section which is full of information about medicare. All you need is your zip code and a few minutes of your time to potentially save 100s of dollars on your medicare bills.
Most every church has a public service arm that does work for some sector of the community such as the homeless, injured veterans, or sick children. 
Consider calling around or doing some research to find a church doing good work near you. 
~
Your Local Hospital
Hospitals are always looking for volunteers to visit the elderly and act as candystripers. This is a great opportunity for young people look toward a future career in medicine or a related field. It is also great for people who just want to do some good and see the smile on the face of the person they?re helping. 
Habitat for Humanity
Habitat for Humanity is a popular service organization that helps to build homes for deserving families in need all over the country. They accept people of all skill levels and provide donated tools, materials, and equipment. Building a habitat for humanity home is a great experience, you build a new skill set, work closely with other volunteers as a team and you get to see the product of your labor put to good use.
Shriners Hospitals
Shriners hospitals are charity hospitals for sick or injured children. These places are looking for volunteers for the same reasons as most hospitals, but you will specifically be volunteering to help children. 
Y.M.C.A.
The Y.M.C.A. is always look for volunteers to do most anything you can imagine from coaching youth sports to collecting donations. There is something for pretty much every level of skill and commitment. 
Food Banks
Food banks sometimes exist as a part of a church or larger organization but are sometimes a separate entity entirely. They generally act as a distribution hub or warehouse for food donations. Volunteering for a food bank generally consists of loading and unloading of trucks, as well as sorting and cataloging donations. 
National Parks
If your looking to spend some time outdoors while serving your community considering volunteering for your local parks department. You can help with keeping the park clean and the amenities maintained. 
I sure hope this guide to Places to Volunteer This Summer has spurred your interest in community service. In addition to the help that your volunteering will provide for your chosen organization your service can also help provide you will job training, friends, and a wholesome sense of satisfaction. 
Popular Savings Offers