Planning a garden wedding
By Catalogs Editorial Staff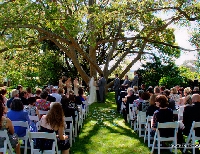 Make your garden wedding a dream come true
I loved my garden wedding. It was a wonderful day with family and friends, amid the tropical plants and trees. But as memorable as it was, there are some lessons I learned. Some were things I was happy we did. Others fell more into the "I wish we had" group. 
If you're just beginning the task of planning your garden wedding ceremony or reception, here are some tips to help you make it everything you've imagined. 
Start early
Before you continue reading about the Planning a garden wedding there is a special announcement we would like to share with you. Catalogs.com has negotiated special medicare rates for our vibrant community of seniors. If you are over the age of 60, you can head over to our Seniors Health Section which is full of information about medicare. All you need is your zip code and a few minutes of your time to potentially save 100s of dollars on your medicare bills.
Not the ceremony, the planning. If you're considering a public garden or park, they book up way further in advance than I ever imagined possible. Some of the most picturesque spots were already reserved two years in advance for prime wedding season! 
If you have flexibility in the day of the week, planning a midweek wedding might allow you more choices of location and could reduce space fees. Having an off-season wedding can help, too. May and June are booked up much earlier than October. Weeks close to holidays like Thanksgiving and Christmas also fill up quickly.
~
Consider a garden wedding at home
Our wedding was in a friend's lovely tropical garden, but even a simple backyard can be transformed into a garden oasis for your celebration. 
As soon as you know the season for the wedding, start transforming the yard with new plants. Having a spring or summer wedding? Consider installing an inexpensive arbor, then planting blooming vines to climb up and over…the perfect spot for your ceremony. For an autumn wedding, plant red maples…they'll make a stunning background for your wedding pictures. A stand of evergreens will add color to a winter garden wedding. 
Think about the weather
Imagining a serene garden wedding in springtime is all well and good, but what happens when April showers start to fall? Planning a garden wedding also means planning for backup. Is there a shelter or building at your location that could be used if the weather doesn't cooperate? Can you rent a large tent if the forecast is iffy a few days before? 
Let guests in on the plans 
Starting with your Save-the-Date cards, let guests know a garden wedding is planned. That way, they can start to look for the right outfit for the event (okay, the women can start to look for the right dress. I doubt most guys would start planning their clothing choice months in advance!) Choose garden-themed designs for all of your wedding stationery, from announcements to thank-you cards to keep the magic going. 
Plan for the food
A garden reception is beautiful, but you do have to make more arrangements to keep food fresh than at an indoor affair. If you're having your reception catered, talk to them about the logistics of keeping things cold or cooking outside. Make sure your venue has a power supply if the caterer needs one (some caterers are using food trucks to get around this issue.) 
If you're handling the food yourself, or if family and friends are cooking, make sure you invest in enough coolers to keep food fresh during the ceremony, and to hold the extras to refill platters and bowls. If there will be grilling or cooking, check the availablilty of plugs (and make sure they all work, well in advance of the wedding!)
Think about the guests' comfort
Now is the time to think about your guests, too. If the weather is likely to be warm, order paper fans guests can use to cool off. If high heels might prove to be a problem, plan to have baskets of flip flops or slippers on hand for quick changes.
For cooler weather, provide a pile of shawls, light windbreakers or lap blankets where guests can grab them. (You can even get the jackets imprinted with your wedding details, for a favor guests will use again and again.)
Ask for help!
This was one of our biggest mistakes, so I want to save you from the same experience. A garden wedding involves a lot of last minute logistics for set up. We tried to do all or most of it ourselves. Big mistake! Let family and friends help, ask for help, or hire an assistant or two  That way, you'll have time to relax and get ready for your big moment.
Popular Savings Offers