Planning appetizers for a cocktail party
By Catalogs Editorial Staff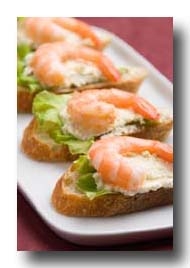 The recipe for an outstanding cocktail party includes easy appetizers
Cocktail parties are one of those occasions when many good things come together to make one great experience. Combining good company with tasty food and cocktails is an easy recipe for a magical experience.
However, many people become overwhelmed and stressed when creating and planning appetizers for a cocktail party. Take the difficulty out by selecting and purchasing appetizers from a gourmet food company or by making your own, simple, scrumptious appetizers. A gourmet menu of delivered appetizers can make the host's and hostess' evening stress-free.
When deciding which appetizers to make, take a few things into consideration. Typically, appetizers that are eaten with one hand — or even in one bite — are the best choices. Most of your party guests will have a drink in their hand and will be chatting with each other. It is much more convenient for them to have a simple appetizer that can be held in one hand and easily nibbled on while mingling, than to have to put drinks down and use utensils. Moreover, choose appetizers that aren't messy.
Before you continue reading about the Planning appetizers for a cocktail party there is a special announcement we would like to share with you. Catalogs.com has negotiated special medicare rates for our vibrant community of seniors. If you are over the age of 60, you can head over to our Seniors Health Section which is full of information about medicare. All you need is your zip code and a few minutes of your time to potentially save 100s of dollars on your medicare bills.
Consider what cocktails you are serving and what appetizers would taste well with them. This is called food and wine pairing. For instance, if you are serving red wine, beef typically goes great with the flavor components in the wine.
Skip the usual fare that shows up at almost every tired cocktail party and choose food that will set you apart from the rest. Perk up your guests' taste buds with something unexpected, such as chicken curry puffs or popular with a twist, like mac and cheese bites.
In addition, fulfill the needs of all of your guests, including your vegetarians. Add a few meatless appetizers in your menu so that everyone in your cocktail party feels included. Cheese and vegetables are excellent ingredients that usually please everyone.
A simple vegetarian option is goat cheese crostini with pickled peppers. To make this tasty appetizer, cut about twenty 1/3-inch slices of bagette and brush them will olive oil. Place the bagette slices on a baking sheet and let them cook in a 400-degree oven for about eight minutes. When the slices are toasted, spread fresh room-temperature goat cheese on top. Sprinkle chopped sweet or hot peppers on the cheese. Drizzle with good-quality extra virgin olive oil, a dash of salt, a bit of chopped chives and serve. All of your guests, not only your vegetarians, will be impressed with this easy, but elegant treat. Sauvignon blanc typically pairs well with the herbal freshness of the goat cheese.
When planning appetizers for a cocktail party, don't forget to include something sweet. There is almost nothing better that eating food that is sweet after you've just nibbled on something heavy and savory. One appetizer that employs a favorite flavor combination of spicy and sweet is spicy pecan nibbles. To assemble, mix three tablespoons of melted butter with two tablespoons of Worcestershire sauce, two teaspoons each of hot pepper sauce and chili powder, one teaspoon of curry powder and 1/2-teaspoon of salt together in a bowl. Add three cups of pecan halves to the mixture, and be sure to thoroughly coat each nut. Spread the pecans on a baking sheet, and bake them in a 300-degree oven for about 30 minutes or until they are toasted. Your guest are sure to enjoy this simple delight.
When planning appetizers for your cocktail party, keep them simple, tasty and stress-free. No guest enjoys a party when the host is panicked and not enjoying themselves because they are too worried about the details. While you do want to serve gourmet appetizers, you also want to entertain your guests and make them feel comfortable. Serving easy, elegant appetizers is a way to pamper your guests and treat them to an enjoyable experience.
References:
What's cooking America: Planning appetizers
BHG: all appetizer parties
Popular Savings Offers