History of the polo shirt
By Catalogs Editorial Staff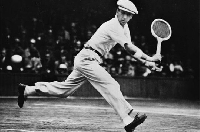 Rene Lacoste is credited with designing the very first polo shirt
The polo shirt has grown to become a is a popular fashion statement for the smart but casual and comfortable look.
Polo shirts
have become a
summertime wardrobe

essential
, perfect for casual dinner parties, beach going, pool side relaxation, and even some professional events. In fact, many country clubs, golf club and tennis clubs even require polo shirts as a part of their dress code.
But when did polo shirts first appear, and what is polo shirt history?
Well, it all depends how far back in time you want to go. Technically, the sport of polo dates back to an ancient 7th century game called ?pulu? that was played in Tibet. This game was adopted by the Persians who organized teams of men on horseback to hit wooden ?pulu? balls using sticks.  The game was so popular, it spread to India, where it was eventually referred to as polo.  
Before you continue reading about the History of the polo shirt there is a special announcement we would like to share with you. Catalogs.com has negotiated special medicare rates for our vibrant community of seniors. If you are over the age of 60, you can head over to our Seniors Health Section which is full of information about medicare. All you need is your zip code and a few minutes of your time to potentially save 100s of dollars on your medicare bills.
It wasn't until the late 1700's during the British occupation of India, that British soldiers learned the sport of polo, and eventually brought it home to England, where it quickly gained popularity ranking as the favorite pastime of British royalty.  
Riding britches and long sleeved, button down shirts, referred to as ?polo shirts? were typically worn for a game of polo in England. Similar long sleeved shirts were considered to be the appropriate fashion of the time for various other sports such as rowing, and tennis.
~
In 1926, however, a French tennis champion named Rene Lacoste, took the initiative to designed his own alternative to the uncomfortable, starched white tennis shirts of the time. His design was a variation of the long-sleeved polo shirt, but with fitted short sleeves, an extra-long shirt tail, and an unstarched flat collar instead. Lacoste wore this loose-knit, comfortable cotton shirt to the 1926 US open championship, and made polo shirt history. He attracted plenty of media attention for his new-fangled fashion.
Practically overnight, Lacoste's new shirt style became a must-have for tennis players, polo players and  other sporting enthusiasts. Lacoste added the alligator emblem to his shirt because "Alligator" was his nickname. He had a particularly large nose, which friends his friends said reminded them of an alligator. He also had a reputation for traveling with high end alligator luggage.
Lacoste retired from tennis in 1933 and established the famous Lacoste Company, marketing his shirts across Europe and the United States, and eventually, the world. By the late 1940's, the term ?polo? shirt had come to describe the collared shirts worn by tennis players and golfers, rather than polo players. Women's polo shirts also became a fashionable, sporty wardrobe staple.
In the fashion world, Rene Lacoste is celebrated as the founding father of polo shirt history. Today, however, polo shirts are produced by many companies, and name brand clothing lines. Polo shirts for both men and women are available, and materials and styles vary tremendously and range from solids to print polo shirts.
A selection of high end polo shirts are made by Ralph Lauren, Armani, Club Monaco, Dockers, Gucci, J. Crew, Lands End, L.L. Bean, etc. But the comfortable, fashionable polos that have truly become status symbols are also available for more reasonable prices in many department stores.
The varieties of polo shirts that have evolved into golf shirts are somewhat different than traditional polo shirts, as they are frequently made from cotton polyester blends, or polyester, and usually feature stiffer collars and four buttons on the collar instead of three.
Popular Savings Offers