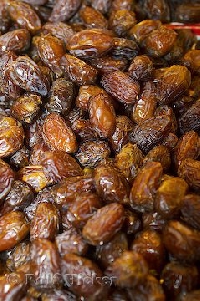 Some interesting facts about dates
This is not a roster of things to eat on Saturday night with significant or insignificant others that happen to be passing through your life. This concerns recipes with dates of the fruit kind. Believed to have originated around the Persian Gulf, dates have been a staple food of the Middle East for thousands of years (although they probably weren't always available in gift baskets in ancient times). Using dates in recipes goes as far back as 4000 BCE and some recipes with dates include: date wine, salads and curries. In North America, dates are commonly used in baked desserts and confections.
The Arabs spread dates around South West Asia, northern Africa, Spain and Italy. To this day, dates are an important traditional crop in Turkey, Iraq, Arabia, and North Africa west to Morocco, and are mentioned in the Quran.  They are also sold all over the world in gift trays. In Islamic countries,  dates are very important symbolically, and along with yogurt or milk are a traditional first meal when the sun sets during the Muslim holy days of Ramadan.
 ~
Some facts about dates and date trees
1- Date palms can take 4 to 7 years after planting before they will bear fruit, and produce viable yields for commercial harvest between 7 to 10 years.
2- Dates do not all ripen at the same time and several harvests per year are often required. In order to get fruit of marketable quality, the bunches of dates must be thinned and bagged before ripening so that the remaining fruits grow larger and are protected from weather&pests such as birds.
 3- Dates are very high in sugar and are often converted into sugar. This can be done by arranging sliced dates on a baking sheet and baking at 450? for 10 to 15 minutes, or until very dry and hard as rocks. Grind in a food processor for final step.
4- Dried dates will keep for 6-12 months in a cool dry place. Tightly wrapped fresh dates will keep for up to 2 weeks in the refrigerator.

What are some recipes with dates?
1- Date nut squares
You will need: 21/2 cups sugar, ª teaspoon salt, 1 cup of evaporated milk, 2 cups chopped pecans, walnuts or hazelnuts, 1 1/2 cups chopped dates and 1 teaspoon vanilla extract.
 In a heavy saucepan, combine sugar, salt, and evaporated milk and bring it to a boil, stirring, until sugar is dissolved. Cook, stirring occasionally, until mixture reaches 236 degrees (soft ball stage) on candy thermometer. Remove from heat and add remaining ingredients. Let it stand until lukewarm and then beat with a wooden spoon until mixture is creamy and loses its gloss. Spread mixture in a 9-inch square pan and let stand until firm. When you cut into squares, it will make about two pounds of candy.
2- Date pie
This pie has a date filling and whipped cream topping. For this recipe you will need: 1 pound of pitted dates, water, 1 cup milk, ® cup sugar. 1/8 teaspoon salt, 1 tablespoon flour, 1 egg, well beaten, 1 baked pastry shell and whipped cream topping.
Cut dates into quarters and place in saucepan. Cover with water and simmer, covered, until tender. Mix together milk, sugar, salt, and flour and add it to date mixture. Then add a beaten egg and cook until thickened, stirring constantly. Cool and pour into pastry shell. When firm, cover date pie with whipped cream topping.
Enjoy these recipes with dates and find others.
The world of dates awaits (and that rhymes!)