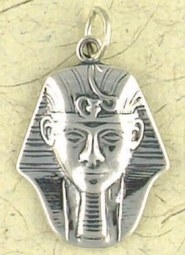 A replica necklace of a museum artifact is a one-of-a-kind gift
Living history is a movement originated by European historians who were seeking ways to bring the past to life. Examples of living history, which originated a century ago, include hands-on learning, restored period pieces and live exhibitions of how things were done in the past. Another form of living history is to adorn oneself in artifact jewelry.
Take Pharaoh, for instance. The ancient kings of Egypt were known as Pharaohs, which literally means "Great House." Today, you can find replica statues and sculptures of Pharaoh, even a replica necklace with a Pharaoh pendant.
There is something very intriguing about miniature versions of massive things. A Matchbox car, a Rottweiller puppy, a reproduction necklace of Michelangelo's magnificent David. It is often said that things of grandeur are the inspiration of art.
Buddha is yet another example. Reproductions of Buddha are everywhere – in miniature statues, paintings, on silverware handles – you name it.
~
It is not every day that you can visit your favorite art museums or take in the Seven Wonders, which is why a replica necklace might make a one-of-a-kind gift for you or the history buffs and art lovers in your circle of friends.
For history lovers, necklaces adorned with Cartouche of Cheops (from the Brooklyn Museum of Art), the Chinese Dragon, or "Siddharta," and the Dali Hypercube, inspired by the collection at the Salvador Dali Museum, represent only a small fraction of the hundreds of living history replica necklaces available today.
The artist in your family will appreciate a Fleur-de-Lys Faberge-inspired egg pendant or a replica of the Venus of Laussel. The list of options goes on.
While buying souvenir necklaces from the museum gift shop is the norm, it is also typically more expensive. It is best to scout out an online store that offers your favorite replica necklace for more moderate prices.