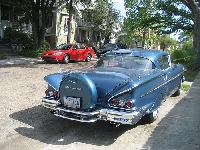 Locate cool accessories for restored impalas with these tips.
Restored Impala accessories can be hard to find, unless you know the stores that specialize in this type of rare Chevrolet parts. Online dealers offer catalogs so you can review and buy cool restored impala accessories without ever leaving home. You may also find Impala accessories at local Chevrolet dealers, salvage yards and used car lots.
What are You Looking For?
Are you looking for performance and styling upgrades? Interior or exterior accessories?  Chevy restoration parts? No matter. You can find them all. From wheels to factory disc brakes and interiors, there is an ideal part for every car enthusiast. If you have a home computer, check out the online stores first. Make a list of who sells what and be sure to write down, or bookmark, the URL or web address for each store you visit so you can return to it later. Few things are more frustrating than to find the perfect item but forget where you saw it!
Probably the best way to start accumulating the accessories you desire is by making a list of what you absolutely "must have" and a dream list for what you would "like to have." Start with the "must have" items and work you way over to the dream list later. 
~
Document Everything
Before you begin to replace your Chevy Impala parts, take a photograph of the car as it is, and of each part that you intend to remove and replace. You need to document all the parts so you can properly restore the car. This helps you find the parts you need to match. Place each part you remove into a container of some type, such as a plastic or paper bag or a plastic container, and properly label it. Documentation also helps resale of the vehicle, should you ever decide to part with it.
Types of Accessories
Chrome accessories are very popular today. You can find car antennas, door handles, side fender vents, kits and packages, and pillar post trim. Floor mats and liners are another category of accessories. Perhaps you want to protect your investment with a car cover or bra? Exhaust and mufflers are big sellers and they make a big difference in car value. Maybe you want to go for dynamite stereo installation, such as a Jensen DVD player and Kenwood amplifiers powering 10-inch subwoofers.  The sky is nearly the limit when you imagination gets going, so think of a theme and get started today on this dream.
Buy a Manual
A manual of restoration for your model vehicle may be a wise investment. Not only will you get clear instructions on how to properly restore the vehicle, but you will gain helpful tips on things to avoid. If it can save you headaches later, it is a good thing. Several places online feature restoration manuals for Impalas.
Seek Inspiration
Look for inspiration before you begin your restoration project. Did you know the late Buddy Holly owned a 1958 Chevy Impala? You can see before-and-after photographs of the car recently reported to belong to Buddy Holly. A video below shows the rock icon's alleged car in very bad condition at a salvage yard in Holly's hometown. It was "brilliantly restored" and scheduled to be auctioned at the 39th Annual Barrett-Jackson Scottsdale Collector Car Auction in Arizona in January of 2010. However, the car was pulled from the auction because doubts arose about its authenticity.  Per the auction company's official statement: "Barrett-Jackson has been unable to obtain satisfactory information to resolve the issues that were raised during the company?s investigation; as a result Lot 1258.2 was pulled from the lineup by Barrett-Jackson."  Whether it is Holly's original Impala, or not, this car is still a "looker." 

Check out the 1961 restoration called "Lemon Ice" (link is below) for even more inspiration. Wander through the pages of some low rider or classic car magazines, or conduct an online search for "restored Impala photographs.' You're sure to find something that will inspire you to finish your own project and hopefully, it will give you some ideas that you can make your own.
References:
Low Rider Magazine: Restored 1961 Chevrolet Impala

Collect.com Buddy Holly's Restored Impala