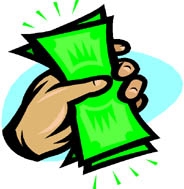 Saving more with these smart shopping tips
In the current economy we all want to save more money, whether we're just starting out in life or getting ready to retire.
Here are some hints about how to save some cash on your shopping without really cutting back.
Coupons
It should go without saying that if you're going to buy something and you can save some money by using a coupon, you should. Here are some tips on how to properly use coupons.
Don't buy something with a coupon unless you'd have bought it without one. You don't save any money by using a coupon on something you wouldn't have spent money on in the first place.
Check coupons at competitor stores. Most stores honor competitor's coupons, so you can use coupons from more than one store in one location.
Buy the Sunday paper. It's easily worth the $1.50 or so just to get the coupons. Scour all of the coupons you get in the paper and in the mail. It will only take a few minutes and can save you more than fifty dollars per month; hundreds if you're really good. You also may want to invest in a travel size coupon organizer binder to ensure that your coupons are always easily accessible. There is nothing worse than getting to the check out and realizing you have coupons for several items; except you left them at home.
Compare and shop
Compare prices, then shop where you want. Almost all places will honor the advertised prices of their competitors, with the exception of car dealers. Many car dealers will say they'll honor competitors' pricing, but when you ask about it, they'll say "that's not an honest price, they're just trying to get you in" and they won't honor their promise. That's the time to walk.
Other than car dealers, however, most places will honor a competitor's advertised pricing on an identical item.
One word of caution; this only works with local advertising. Prices vary wildly from state to state and city to city, and local retailers simply can't compete with internet pricing, so just about any retailer will only honor pricing from their own area.
~
Internet shopping
Always, always, always compare internet pricing before buying locally. If you're making any kind of big purchase, it's virtually unheard of for any local retailer to be able to compete with internet stores. However, buyer beware! Especially when it comes to electronics, a price that seems "to good to be true" usually is. Finding a $4,000 item for $3,000 or $3,500 is possible, but if you see it for half price or less, something's wrong. No matter how good it looks on paper, the product is not as advertised.
When buying on ebay, always be sure to check out how many prior sales a seller has had and the seller's feedback. I recommend not buying from a new ebay seller who has only a few sales. If a seller has at least 100 sales, you can get a better idea for how dependable they are. Feedback should always be at least 98% or higher. That may sound high, but especially with more experienced sellers with sales in the thousands, if the positive feedback drops below 98% there's something wrong.
Look through the negative feedbacks and see why the seller was given a poor rating on that sale. Some reasons are beyond the seller's control, but others are reflective of a poor seller.
Dicker
You'd be surprised how many places will allow you to dicker on prices. Car dealers, small retailers, even doctor's offices. Sometimes you can even dicker with some clerks or managers at major retailers. It can never hurt to ask.
It's particularly easy to dicker on old items that are being replaced or with any scratched or dented or otherwise damaged item, even if it's only the packaging that's damaged. Another great item to dicker on is a display model when all of the packaged items are sold out.
Make a list and check it twice
Santa's not the only one who should do this. Before you go shopping, make a list of everything you want to buy. Gather all of your coupons, look in the fridge and through shelves and decide on what you're going to buy before going to the store.
Once you get there, stick to the list. This may be the single best way to save money. Don't pick up impulse items and stick with what you actually need, rather than what catches your eye when you get to the store. Keep a running grocery list on a bulletin board near the fridge so that whenever something runs out you can easily write it down without having to remember anything.
There are plenty of other ways to save money too. Combine trips to different places to save gas.  It's not worth it to drive 5 miles for cheaper gas. If you go to movies, always go to the matinee and eat just before you go. You can get a full meal at any fast food restaurant for less than the price of a large bucket of popcorn. Look for ways to save more every day. Make it a game; a challenge.  Have fun finding ways to spend less.