Where to set up outdoor dining
By Catalogs Editorial Staff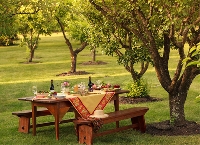 Set up outdoor dining with these tips on choosing the perfect location
Sharing food outside just feels right. A casual meal shared under an open sky sets the perfect stage for warm conversation and good memories. Besides food and good company, all it takes is a few chairs and a sturdy table.
Depending on the size of your yard, figuring out where to set up outdoor dining furniture can present a challenge. Ideally, you want to position the table close to the best view and far from potential pest magnets. It also helps to have shade, but if an umbrella comes with your table you?re all set.
Grass versus solid surfaces 

On the grass always sounds like a logic place to eat, and it?s nice to slip off your shoes and feel cool ground on your feet, but setting up on grass has a few drawbacks. Fallen crumbs will attract bugs. Plus the ground is bound to have some unevenness, which means the chairs and table could easily wobble. If this is your best option, wedge a shim under furniture legs that don?t hit the ground so guests do rock while they eat.
Before you continue reading about the Where to set up outdoor dining there is a special announcement we would like to share with you. Catalogs.com has negotiated special medicare rates for our vibrant community of seniors. If you are over the age of 60, you can head over to our Seniors Health Section which is full of information about medicare. All you need is your zip code and a few minutes of your time to potentially save 100s of dollars on your medicare bills.
If you have a patio, deck or other hard surface, use it. Any fallen bits can be swept or hosed away so you don?t have to worry about pests or food rotting under the dining area. These surfaces offer more stability and have already done the work for you in choosing the most scenic spot.
~
Worried about spillage? Don?t put away the red wine. Instead lay an outside rug under the table and chairs. After dinner shake or hose it off and you?re ready for the next night.
Proximity to the house
The best part of enjoying a creative meal outside is being surrounded by nature – feeling the breeze, smelling the flowers ? but if you set up outdoor dining only a step away from the backdoor, you?re going to miss a lot. Fill a basket or wagon with everything you need so you don?t have to make a dozen trips to the kitchen. This way you can choose a spot that helps everyone appreciate the season.
The garden
While you may not want the picnic table to take up a permanent spot in your peaceful rose garden, this may be the ideal location for special occasions. Colorful blossoms are all the d?cor you?ll need. Choose cups and napkins in bold colors so the garden doesn?t completely outshine your gorgeous table setting.
Carport
Birthday and dinner parties feel much more elegant when the festivities are hosted outside, it also lightens the host?s clean-up load. Bring atmosphere to the carport with white rope lights or a few colorful hanging lanterns. Positioning the table under a solid cover takes off any stress should heavy clouds threaten a little rain.

Where the action is
If you?re generous enough to host a large gathering like a reception or family reunion in the back yard, set up outdoor dining near where the actions is. Cover an old picnic table with a tablecloth to arrange a buffet on, or position tables around the dance floor. Put food and beverages within easy reach, but not so close that hungry guests block those ready to dance.
Small balcony
Narrow balconies have a romantic quality that makes them the perfect place for dinner for two. A caf? table and chairs will be a better fit than large patio furniture. Tie cushions to the seats for added comfort and set dessert on a small table nearby.
Dining alfresco should be simple, so don?t over think it. Who knows, what starts off as a treat could turn into a regular gathering near the grill. A highlight of the week.
Popular Savings Offers