Setting a proper table for high tea
By Catalogs Editorial Staff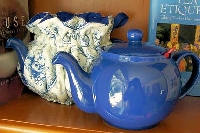 Tips for setting a proper table for high tea the British way
There are few greater pleasures than sitting around with your friends and sharing yummy snacks and sipping tea. In the United States, we do not often have the time to sit and linger in the afternoon unless it is on the weekend and you are attending a brunch or other party. If, however, you ever feel the urge to take a few hours in the middle of the week and enjoy high tea, here is how to do it well.
Time for Tea
The traditional time for high tea is four o?clock. This leaves you time to enjoy it yet still have time to have a light dinner with your family later in the evening. It came to be at this time because ?tea time? was originally the evening meal for the working classes with no dinner to follow later in the evening. Tea was also the time the children of the wealthy ate dinner with their nannies or governesses while the parents had dinner later on in a more formal setting.
Before you continue reading about the Setting a proper table for high tea there is a special announcement we would like to share with you. Catalogs.com has negotiated special medicare rates for our vibrant community of seniors. If you are over the age of 60, you can head over to our Seniors Health Section which is full of information about medicare. All you need is your zip code and a few minutes of your time to potentially save 100s of dollars on your medicare bills.
The Rules
There are a few rules to follow when setting a proper table for high tea. High tea should be an event and events require invitations. According to The Etiquette Scholar, invitations should be sent out one week ahead of the date, but it is acceptable to respond via phone or email. A response, however, is required so that plans can be made according to the number of guests.
The Equipment
Your table should be beautiful with pretty china, linen napkins or at least nice paper napkins (the heavier version) and perhaps a nice bouquet of flowers in the center to add the extra touch of elegance. The teapot is the most visible accessory, so it should be something delicate wrapped in a cozy to keep the water warm as you enjoy your guests. A strainer teapot adds a lovely touch to a table that is set with a blue theme – and it comes with a strainer attached which is a bonus for ease in serving tea.
~

The Tea Strainer
A tea strainer is an important ingredient in your table settings. Good tea, according to those in the know, consists of pouring loose leaves into the pot and then pouring water over them. The leaves are allowed to steep for three minutes, or longer if you enjoy a stronger tea, and then poured into cups over a strainer.
One can use a variety of strainer versions depending on preference. Someone who is just being introduced to tea may enjoy a bowl version, but there is a wide variety of tea strainers available for purchase. Some fit in the pot, some are shaped more like a spoon and some are permanently attached inside the pot like the one mentioned above.
All strainers should have holes small enough to catch the tiny leaves that may escape from the pot as you pour tea into cups.
The Table
When setting a proper table for high tea one cannot ignore the food that will be served. This can range from sweets, such as little cakes or biscuits with jam, to savory items such as mini-quiches or tea sandwiches.
As you may have noticed, the key to the food served is ?mini.? Each item should be a small bite of something rather than a large serving so as to give the guest the option of having a little bit of everything. Guests can add jam to their own biscuits or toast, but if you serve a variety of food items, everyone should be able to enjoy their favorites.
High tea is a throwback from a bygone era and a relaxing one at that. Setting a proper table for high tea should not deter you. Use what you have and simply make it pretty. Put thought into what you will serve, use high-quality tea, and make your guests comfortable.
You may find that sharing an hour or two with friends over snacks and tea can become a regular event you enjoy for years to come.

Popular Savings Offers