When you buy something using the retail links in our posts, we may earn a small commission. Catalogs.com does not accept money for editorial reviews. Read more about our policy
here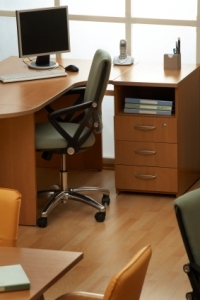 Soften the look of your computer area at home or in the office.
Providing a comfortable, ergonomic working environment is highly important for companies who want to foster more creativity and productivity in their employees. Many interior designers and furniture makers are recognizing that the traditional cubicle and square desk just doesn't cut it anymore with progressive companies.
Ergonomics is a term we've all heard for many years; we know it's important to have ergonomic furniture but there is a real science behind it. Its basic aim is to have humans and technology work harmoniously together in a healthy, comfortable and efficient way. This isn't news of course to those who work all day at a computer or those who suffer from carpel tunnel syndrome. 
It's Not Hip to be Square
The uniquely shaped office furniture being created today is designed to be ergonomic, efficient and space-saving so that workers at home or in the office can be productive in a pleasant, comfortable atmosphere. These ergonomic designs reduce the reach-stress to your arms and shoulders causing by overreaching for things out of the way. Because you can place items you frequently reach for all around you, they increase your efficiency.
Shapes other than traditional rectangle or square desks offer a better reaching area for you because they are just more 'human-adaptive.' The more popular shapes are the L-shaped and the U-shaped computer desk furniture. More unique ones are the kidney and corner-shaped computer desks.
The L-Shaped Desk
The traditional L-shaped desk is just as the name implies. It's an L-shape that fits against the wall. It gives you a multi-tasking work station with a maximum amount of space without taking up too much square footage. It lets the user work multiple surfaces such as the computer, a writing surface and a filing area.
If space is at a premium in your home or office, this is a good shape for you. Ergonomically, this desk makes it very easy to multi-task while keeping your head aligned and relaxed and your keyboard at the optimal level. The L-shaped desk will fit in the corner of a living area without taking up the whole room.
The U-Shaped Desk
Shaped into a semi-circle, the U-shaped desk is usually for an office with lots of room but some are compact enough to fit into smaller spaces. The larger ones are stylish for reception areas and executive offices. The U-shaped desk is ideal for more than one user. It's also the most ergonomic shape for extreme multi-taskers with more than one monitor, CPU or other equipment.
Choosing between an L-shaped desk and a U-shaped computer desk is really just a matter of preference and how much room you have. Each gives the user enough room to spread out without leaning too much to one side and causing back, wrist or eye strain.
 ~
The Kidney-Shaped Desk
Shaped like a kidney bean, this is a perfect activity desk for crafts at home, a small reception area or a computer work station. It's a softer version of the U-shaped desk and comes in many different sizes. With its more contemporary look than some of the traditional U-shaped desks, it's perfect for a teen's room or others who like modern styles.
Many kidney desks have dual surfaces making them computer-friendly. The upper half allows the user to look at the display devices while the lower level lets the user write or operate the keyboard. This reduces eye and wrist strain as well.
The Corner Desk
The corner desk is perfect at home for a kid's room, living room or even the kitchen. With its triangle shape, this desk fits neatly into a corner taking up very little room. It works well as a computer station, homework desk, bill-paying area or writing desk.
A compact computer desk in the living room makes it possible for parents to monitor internet time or game-playing, as well as homework. Usually outfitted with as many features as a regular computer desk, corner units are much more efficient on space but don't give you a lot of room to multi-task.
We Live our Lives around the Computer
We do everything on the computer. We work at the office and then bring work home on the computer. We run companies out of our houses. We do homework. We socialize and play games. The area we spend so much time in should be conducive to comfortable enjoyment and efficient work time.
The science of ergonomics is an important part of making sure we work to our full potential and enjoy the space we're in without being distracted by discomfort and an inefficient work space. Differently shaped computer desks offer an ergonomic, organized and eye-pleasing alternative to the old square standby.