Showing your patriotism
By Catalogs Editorial Staff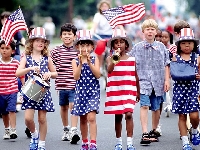 Americans can show their patriotism in many ways, with symbols and with actions
Today there seem to be as many definitions of "patriot" as there are people who call themselves one. When a child asks for tips on showing their patriotism, it's best to start with the traditional definition of patriotism, which is "to have a love for or devotion to one's country." Showing love and devotion are easier concepts to understand than to do.
Displays of patriotism generally take two forms: displays and actions. Displaying symbols of our country can elicit pride and emotion in both the person doing the showing and those who see it.
There is perhaps no better way to show patriotism than by flying the flag of the United States properly. It's easy to put a flag in a holder on national holidays or to place small flags in the yard or wave them at a parade. If you're going to fly a flag regularly, check a government web site to learn about proper lighting, dealing with weather and correct procedures for raising, lowering and storing the flag.
Before you continue reading about the Showing your patriotism there is a special announcement we would like to share with you. Catalogs.com has negotiated special medicare rates for our vibrant community of seniors. If you are over the age of 60, you can head over to our Seniors Health Section which is full of information about medicare. All you need is your zip code and a few minutes of your time to potentially save 100s of dollars on your medicare bills.
Other symbols of our country that can show your patriotism in similar ways are ?Support Our Troops? ribbons, the Great Seal of the U.S., bald eagles, Uncle Sam and military emblems. Add a custom engraved stone to your front landscaping, with a patriotic quote, a part of the pledge, or an image of the U.S. flag, and greet all of your guests with an expression of your love of country.
Using and wearing products that display the flag is another great way to show your patriotism. T-shirts, hats, mouse-pads, stickers, labels and note cards are perfect for sharing your devotion with friends and colleagues.
~
While these symbols are good ways to show your love of your country, actions really do speak louder than words. One of the finest acts of patriotism is the singing of our national anthem. Learn the words and the music and sing it proudly. There are actually four verses and it's interesting and patriotic to learn them and the story behind them and the battle that inspired Francis Scott Key to write them.
Not everyone can be involved in politics, but there are many civic activities you can volunteer for to demonstrate your care for your country and for your fellow Americans. Your local library or city hall can provide a list of civic activities like fund raisers and park clean-ups, as wall as organizations to join to meet like-minded patriotic citizens.
An often forgotten way to show your patriotism is to obey the law and behave in a way that makes you a role model. As Americans, we are not only watched by our own children but also by children and citizens in other countries. Our actions not only show them our love for our country, but also why it's such a great country to live in.
Finally, the best and most important way to show your patriotism is to vote in all elections from national to local and for both politicians and for issues. Free elections are one of our contributions to the world and the best way to show how important they are and how proud we are of this contribution is to vote. Learn the issues, learn about the candidates through more than just their ads, take your whole family with you, wear a patriotic outfit to the polls and vote. It's the patriotic thing to do.
Popular Savings Offers