Recipes for single-crust fruit pies
By Catalogs Editorial Staff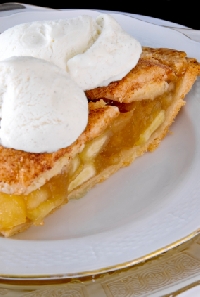 Enjoy a delicious single-crust fruit pie.
Single-crust fruit pies need a topping to keep fruit from becoming tough or burnt-looking in the oven. These recipes feature apples but can be used as easily for peaches, plums or pears. 
Single Pie Crust
1 cup all-purpose flour
1/3 cup shortening
Pinch of salt
2-3 Tbsp. cold water
Pie Filling
Prepare and mound in prepared crust:
Before you continue reading about the Recipes for single-crust fruit pies there is a special announcement we would like to share with you. Catalogs.com has negotiated special medicare rates for our vibrant community of seniors. If you are over the age of 60, you can head over to our Seniors Health Section which is full of information about medicare. All you need is your zip code and a few minutes of your time to potentially save 100s of dollars on your medicare bills.
6 cups thinly sliced apples (peaches, pears or plums)
? cup white or brown sugar
ª cup all-purpose flour
® tsp. nutmeg
® tsp. cinnamon
Dash of salt
2 Tbsp. butter or margarine
Crumb/Streusel Topping for One-Crust Pie
6 Tbsp. butter or margarine (cold)
1 cup cake or cookie crumbs

or

? cup all-purpose flour plus 6 Tbsp. white or brown sugar

Optional

: ® chopped walnuts or pecans
Combine with knife/fork/pastry knife till resulting crumbs are pea-sized. Pour over apple filling, pressing down very lightly, to cover completely.
Sour Cream Variation: When you prepare apple-filling, use brown sugar instead of white. Omit butter to dot; instead, spread filling with 1 cup sour cream (full-fat, low-fat, or fat-free).
Additions to Filling
These will help you turn your single-crust fruit pies into personal classics:
1 Tbsp. grated lemon peel and a squeeze of lemon juice
or
1 Tbsp. grated orange peel and a squeeze of juice
or
® cup broken walnut or pecan meats
or
or
® cup chopped dried, pitted prunes or dried apricots. 
For a spicier pie, increase cinnamon to 1 tsp.
or
add ® tsp. powdered ginger to nutmeg and cinnamon.
~
Deep Dish Single-Crust Fruit Pies
Lightly grease 2-quart casserole (almost any shape will do, although a deep – 1 ® to 2 inches deep – casserole will work better than a shallow one).
Put fruit filling into prepared casserole.
Roll out crust to fit (plus an extra half-inch for crimping).
Cut steam-vent slashes in crust, fold in quarters, unfold on top of filling. It's fun to practice fancy garnishes on this since assembly is so simple.
Roll pie-crust scraps and use a knife to cut an apple-shape, leaves, or any other decorations that appeal. 
Add 1 Tbsp. water and 1 tsp. sugar to a beaten egg-white. Use it to 'glue' your decorations on the crust (don't block all your steam-vent cuts). 
Fifteen minutes before pie is ready to remove from the oven, use a pastry brush to glaze the entire crust with egg-white mixture.
Free-Form Fruit Pie
Now that we've tried fruit pies upside down, it's time to change the shape. A free-form pie can be baked on a foil-covered cookie sheet or a pizza pan. You don't crimp the pie crust but may want to crimp the foil (juicy pies can drip).
Double the pastry recipe at the top of this page.
Roll out as much pastry as you will need for a 16-inch circle on a waxed-paper-covered, flour-dusted surface. Dust your baking pan lightly with flour.
Fold pastry into quarters, ease onto your cookie-sheet or pizza pan, unfold. (You are likely to have some pastry dough left, but see

Uses for Leftover Pastry

below.)
Refrigerate dough on pan while you prepare:

4 cups thinly-sliced apples

ª scant cup all-purpose flour

Pinch of salt
2 Tbsp. butter or margarine
Stir together all ingredients except butter.
Remove crust from refrigerator; cover slightly more than half of crust with apple filling. 
Dot filling with butter or margarine.
Bring edges of pastry toward center of pie. Feel free to trim out heavy folds or overlaps as you gather edges toward the center.
Leave a space at least 2 inches in diameter in the center of the pie?no need for steam vents.
Moisten any pastry edges that do not want to stick to each other. Trim as desired (or not); egg-white wash, if you like.
Bake 10 minutes at 400 degrees to set the pastry; reduce heat to 350 degrees and bake another 30-40 minutes until crust is browned and apples are soft (test with fork).
Loosen pie from foil, cool on a breadboard or rack, or serve warm from the oven.
Uses for Leftover Pastry
Make a ball of pastry scraps. Roll out into either a rectangle or circle. Cover dough with:
or
Parmesan cheese mixed with a little softened butter
or
Roll up the rectangle and cut ®-inch slices to make 'snails.' (In German, these little 'snails' are called 'schnecken,' which means 'cut.')
Cut circle into wedges and make a pastry-pizza. These tidbits can get children involved in baking.
Bake at 350 degrees for 10-15 minutes on a lightly-greased cookie sheet.
Popular Savings Offers