How to organize a space to do homework
By Catalogs Editorial Staff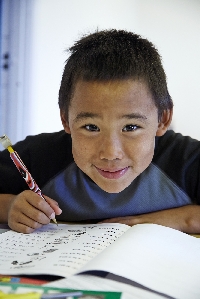 Boost school success when you organize a space to do homework
The school year is underway. In my house, that used to mean endless last-minute trips to the store for the right set of color pencils, more paper, another pack of markers …. Did you ever try to find graph paper at midnight? Trust me, it's harder than you'd think! 
And then when we finally had all the school supplies we needed, there was always the search for where it had been stored, where that project outline had gone …and worst of all, when the next assignments were due. 
No more!  Now that we have a designated space to do homework, those stressful searches and costly last minute shopping trips are a thing of the past.  We've created a work station, stocked with the supplies and tools needed to take some of the drama out of the nightly homework routine. 
Before you continue reading about the How to organize a space to do homework there is a special announcement we would like to share with you. Catalogs.com has negotiated special medicare rates for our vibrant community of seniors. If you are over the age of 60, you can head over to our Seniors Health Section which is full of information about medicare. All you need is your zip code and a few minutes of your time to potentially save 100s of dollars on your medicare bills.
Here's what you need to know to take the "Oh no!, I need…" stress out of homework. 
Designate the spot
Ideally, a child has a desk or table of their own to do their homework. Having a personal space allows them to arrange the area to match their personal style. 
A student desk doesn't have to be big or expensive. Just a simple piece with a few drawers will work. If a desk isn't available, a table will work, too. Make sure the surface is large enough for them to spread out their textbook, papers and a laptop or tablet. Also, find a comfortable chair that is comfortable for long-ish stretches of time, and that has the right back height and seat size.
Make sure that this "learning space" includes creative learning activities, including learning puzzles, manipulatives and science toys. Fueling the imagination and offering tools that augment homework is always a good thing. This should be a friendly spot for your child to learn.
Plan the storage
If your student's desk has drawers, this is the ideal place to store most of the supplies they'll need to do homework. Make sure drawers don't end up as dumping grounds for toys, collections or other things that aren't school supplies.  
If it's a large enough desk, use magazine bins on the desk itself to store larger supplies like notebooks, paper, folders and dividers. 

If the drawers are too small, or if your student is using a table, invest in an inexpensive set of plastic drawers or a rolling storage cart with drawers or baskets. Use those just as you would desk drawers, filling them with the tools and supplies they need. 
When a separate space isn't available
In many homes, there isn't space for a separate desks. Several kids might need to share a desk, the kitchen table might need to do double duty as a homework space after supper. 
Using separate storage bins for each child is a simple way to keep supplies and tools sorted. Shared supplies can go in one set of drawers or boxes, while each child's special gear, favorite pack of crayons or personal notebooks go into their own bin.  
A storage cabinet on wheels will make a shared use space work better, as the supplies can be moved out at meal times, then back for homework and projects. 
Bulletin boards, white boards and calendars
Keeping track of everything kids need to do for school is almost impossible without three of my favorite tools: a good sized bulletin board, a white board and a calendar. Hang them all near the study area.
Bulletin board: This is where project outlines, field trip forms, team schedules and any other reference papers will live. Make it a habit to go through the day's school papers with your child to look for anything that needs to be kept to complete homework or schoolwork. If the project sheet needs to stay with your child (some teachers require that), make a copy and pin that up on the bulletin board. 
If you have more than one child, make columns on the board so you can keep each child's papers together. I like to make a pretty name tag to pin above the columns, but you can use an index card with the child's name on it — anything keep things sorted. 
The white board: This is where you write project plans, supply lists, goals or other notes that aren't tied to one particular day. Use different colors of dry-erase markers for each child on a large white board. Or buy a smaller white board for each child. 
The calendar: As soon as your child comes home with an assignment, a project deadline, a field trip or a try-out date, make sure it goes onto the calendar. You can use a multi-column calendar to keep track of all family members. Or choose one with big blocks for each day and use a different color marker for each person. 
Hang the calendar on the wall where everyone can see it, and make it a habit to check fdaily for upcoming events and due dates with your child. Knowing that the science fair is in two weeks will save you from "emergency" runs to get supplies! 
~
The lighting

Good lighting is critical to homework success. Yes, there is a myth that Lincoln did all of his studying by candlelight, but that's probably not the best choice when you're trying to write a social studies paper or figure out Algebra. 

A desk lamp with an adjustable arm will provide task lighting that helps kids see better and work more effectively. Clamp-on lamps are a good choice for a shared use area, because they can be easily attached and removed as needed. 


The supplies
So what should you keep in your student's homework area? Of course the specifics will vary by the ages of your kids, but a good basic list includes:


Pencils

 

 
Pencil sharpeners

 

Erasers 
Pens: black, blue and red

 

 
Color pencils

 

 
Glue sticks

 

 
A compass and protractor

 

 
Calculator 

 

 
Markers

 

 
Crayons

 

 
Scissors

 

 
Hole punch

 

 
Notebook paper

 

 
Graph paper 

 

 
Dividers

 

 
Index cards

 

 
Notebooks

 

 
Extra binder (they have a habit of falling apart at the worst possible moment!)

 

 
Memory stick/flash drive

 

 
Popular Savings Offers