Spanish coffee recipe
By Catalogs Editorial Staff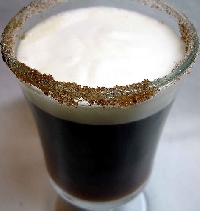 You don't need to travel to Spain to find a delicious Spanish coffee recipe!
You don?t need to travel to Spain to find a delicious Spanish coffee recipe.  Varieties of these flavorful Spanish recipes are plentiful, but it is worthwhile understanding the origins of coffee trade, to truly appreciate the complex history of a sweet, steaming Spanish
coffee
recipe.
Coffee is truly one of the most valuable primary products in global trade.  Although the coffee beans themselves may be similar, every different culture seems to have a unique and exotic way of preparing the beverage. 
The fascinating history of coffee began in the Horn of Africa, in Ethiopia, where the coffee tree originated, and traveled via trade routes to Mecca, where the first coffee houses were born, and from Mecca to Syria, Holland and Asia.  Dutch, Venetian and Spanish traders brought coffee to Europe in the early 1600?s.  The most famous European coffee house, Caffe Florian in Piazza San Marco, which opened in 1720, is still open for business today.  Early, elegant coffee houses of Italy and Spain served the first exotic Spanish coffee recipe.
Before you continue reading about the Spanish coffee recipe there is a special announcement we would like to share with you. Catalogs.com has negotiated special medicare rates for our vibrant community of seniors. If you are over the age of 60, you can head over to our Seniors Health Section which is full of information about medicare. All you need is your zip code and a few minutes of your time to potentially save 100s of dollars on your medicare bills.
Spanish coffee is a complex brew, meant to be savored, in the midst of the social coffee houses, where singing, dancing, and lively political discussions took place.  There are actually many different types of Spanish coffee, such as Caf? Solo, Caf? con Leche, and Caf? Carajillo.  However, Caf? Carajillo is the traditional Spanish coffee recipe.  
In Spain, caf? carajillo contains a small measure of brandy or rum. If this is done properly the brandy is lit first so the alcohol burns off, then the coffee is added, and often garnished with cream or whipped cream.  Gourmet Spanish chefs have perfected this Spanish coffee recipe over the years.  Follow the recipe below to enjoy this rich, exotic, beverage with your own guests!
Spanish Coffee Recipe:  Ingredients
? Vanilla bean
? 2 cups sugar
? Wedge of lime
? 1 1/2 ounces orange liqueur (recommended: Cointreau)
? 1/2 ounce almond liqueur (recommended: Amaretto)
? 1 ounce coffee liqueur
? 1 ounce cognac
? 1 1/2 cups coffee (we recommend a dark roasted coffee)
? Whipped cream
? Chocolate shavings
Spanish Coffee Recipe:  Instructions
A few days before you make the coffee, split the vanilla bean in half the long way, and place it with the sugar in a closed container. To make the coffee, warm 2 brandy snifters. Take the wedge of lime and run it around the edge of the glass to wet the rim. Dip it in the vanilla sugar. Pour the orange liqueur into the glasses and, one at a time, light it on fire and tilt the glass to caramelize the vanilla sugared rim. Douse the flame with a little coffee. In a saucepan place the almond liqueur, cognac and coffee liqueur and warm them. Divide them between the 2 snifters then top them off with more coffee. Garnish with whipped cream, chocolate shavings, a straw, and half of the vanilla bean.
Popular Savings Offers