What are the spices you need to have on hand
By Catalogs Editorial Staff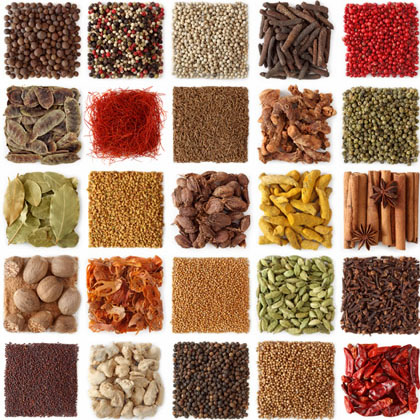 Here are the spices you need to have on hand when cooking
Whether you?ve moved into a new home or simply want to cook more, setting up your kitchen with the necessary tools and staples is a huge step in a most delicious direction. While your pantry is bound to cycle through staples like rice, pasta and dried legumes, there are a few essentials to never run out of.
Stocking a kitchen means knowing what spices you need to have on hand to make every dish sing. At a bare minimum, sea salt and whole peppercorns in a basic pepper mill should always be within reach. Beyond that, determining which herbs and spices are necessary will depend upon the kinds of dishes you cook the most. 
To create well rounded meals with a satisfying variety of flavors, it?s a good idea to keep at least a dozen on your rack, many cooking magazines recommend having about 25. Since they can be pricey, you?ll save a lot of money by building a good foundation of dominant, medium, sweet, peppery and delicate flavors. Many of these will allow you to create your own blends as needed.
Before you continue reading about the What are the spices you need to have on hand there is a special announcement we would like to share with you. Catalogs.com has negotiated special medicare rates for our vibrant community of seniors. If you are over the age of 60, you can head over to our Seniors Health Section which is full of information about medicare. All you need is your zip code and a few minutes of your time to potentially save 100s of dollars on your medicare bills.
The popularity list:
Here are some of the top spices you need to have on hand for cooking a wide variety of cuisines.
Paprika
This vibrant red powder comes smoky, sweet or spicy. Many cooks collect them all! Paprika adds beautiful color and rich, earthy depth to chili, soups, Spanish and Hungarian dishes, roasted meats and potatoes, and comforting, creamy pastas.
~
Cumin
Cumin powder and toasted cumin are medium flavors included in blends like curry powder. Toast cumin seeds to add smokiness to guacamole and bean dishes. Cumin powder is a must-have if you enjoy Indian, Mexican and other Latin American cuisine.
Tumeric or curry powder
Medicinal, beautiful and slightly warm and bitter in flavor, turmeric has been in the hands of chefs around the world for thousands of years. It?s a primary ingredient in curry powder used for many Indian and Thai-inspired curry dishes. It reduces inflammation, stimulates the mind and boosts the immune system. 
Cinnamon, cloves and nutmeg or allspice
The wonderful thing about these warm seasonings is that they work in desserts, stews and wintry roasts. This combination is essential for delicious apple and pumpkin treats, and adds a unique flavor to hot chocolate, oatmeal, pancakes and other foods you crave in cooler weather.
Garlic
Among the most nutritious alliums, garlic is one of the few seasonings you will miss if it?s not there. It?s used more often than not in different cuisines because it wakes up other flavors. And it tastes good! Use garlic to add contrast in tomato sauces, buttery dishes and rubs.
Ginger
This is an intense, dominant spice. You may not use it as often as others, but it?s ideal for curries, soups and pies with allspice.
Chili or cayenne
It?s good to keep both chili powder and cayenne on the shelf, but at least have one. Cayenne stimulates the immune system and is found in many Indian and Cajun dishes as well as hot sauces. Chili is a main ingredient in Southwestern and Mexican classics.
Parsley, sage, rosemary and thyme
Technically these are herbs, (and a catchy Simon and Garfunkle lyric) but they?re stored on the same shelf as your must-have spices so they make the list, too. They each have a unique, robust flavor perfect for tomato sauces, Mediterranean dishes, dressings, poultry and veggies. 
Add some thyme to melted butter and you have a dreamy sauce for green beans. Combine sage with tahini and caramelized onions to add a new creamy twist to casseroles. Rosemary will reinvent your most familiar potato sides.
These spices you need to have on hand will open up a world of possibilities. Keep your favorites within reach and savor the mouth-watering aromas and flavors they?ll bring to your plate.
Popular Savings Offers