How to start an exercise program
By Catalogs Editorial Staff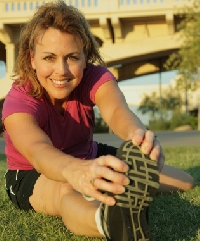 Starting an exercise program doesn't have to be difficult or straining.
By now everyone knows how important it is to take care of yourself, eat right and exercise. Good health can help you reduce your risk of heart attack, diabetes and other chronic diseases as well as improve your self esteem and help you lose weight. If you want to start an exercise program, it is really as simple as these three steps.
How to Start an Exercise Program
Before you continue reading about the How to start an exercise program there is a special announcement we would like to share with you. Catalogs.com has negotiated special medicare rates for our vibrant community of seniors. If you are over the age of 60, you can head over to our Seniors Health Section which is full of information about medicare. All you need is your zip code and a few minutes of your time to potentially save 100s of dollars on your medicare bills.
Evaluate your current fitness level. There are some individuals who will need to check with their doctors before beginning an exercise program like those with chronic conditions, the obese and older adults. For most people, however, a general health assessment means recording your baseline fitness scores so that you can easily measure your progress.
Assess Your Fitness
Assessing your fitness includes discovering:
Your resting pulse rate and the rate after a one-mile walk
The number of push ups you can perform
Your waist, hips and bust measurements
Design a Personal Fitness Program
Rather than simply committing to exercising everyday, nail down a routine when you decide to start an exercise program. Remember to think back to your fitness goals. Do you want to lose weight? Prepare for a 3K race? Improve your cardiovascular health? Having clear goals helps you to stay motivated and on track.
Always design a program that is enjoyable above all. If you hate the exercise you are doing, you certainly won't want to stay with it!
Remember to be creative. Gardening is an excellent calorie burner as is jumping on the trampoline with your kids. Also don't think that you have to do the same activity every day. Alternating or cross training is a way to keep variety in your program.
 ~
Fit Your Schedule
Schedule your workouts just as you would any other appointment during your day and you will be more likely to keep it up. Watch your favorite daily news show while you are on the treadmill. Wake up 30 minutes earlier in the morning to get on the stationary bike. Take an hour lunch and walk up and down the stairs of your building.
Whatever you decide to do, make it work for your lifestyle and your schedule. Start off slowly and work your way up to the goals you have set for yourself. Finally, remember to write down your activity every day. Seeing real results can help you stay on track.
Assess Your Progress
After you have been on your program six weeks, complete the fitness tests you performed at the beginning and track how far you have come. You may be pleasantly surprised to find out you are farther along than you thought you would be, or you may decide to step it up a notch.
Whatever prompted you to start an exercise program in the first place is likely to have been important enough to get you started, so don't lose sight of it. If you have lost motivation for that 3k race, think about starting a swimming program. On the other hand if your husband and friends have begun to compliment you on how great you look lately, that is all the more reason to keep going.
A healthy lifestyle may begin with the decision to start an exercise program, but it continues with the decision to stay committed to a lifetime of healthy living.
Popular Savings Offers