How to stay warm on cool evenings
By Catalogs Editorial Staff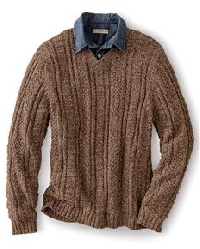 Here is a list of ways you can stay warm on cool evenings as Fall comes around
Summer is nearly over and that means you will not be able to go outside wearing nothing but a tank top, short shorts and flip flops. We are actually in that odd time of year, when it can feel like it is still shorts weather when you are out and about during the day, then suddenly find yourself shivering once the sun begins to set. For some people, this kind of a change in the weather can seem a bit hard to take, especially if you live in a part of the country where the summer was absolutely scorching, no matter the time of day.
Transitioning from dressing in as few as pieces of clothing as possible, to knowing how to stay warm on cool evenings can try the fashion skills of even the best among us. Luckily for you, we've brought you a couple of steps you can take to make sure that you are comfortable, without looking like Nanuk of the North.
Changing how you dress
Before you continue reading about the How to stay warm on cool evenings there is a special announcement we would like to share with you. Catalogs.com has negotiated special medicare rates for our vibrant community of seniors. If you are over the age of 60, you can head over to our Seniors Health Section which is full of information about medicare. All you need is your zip code and a few minutes of your time to potentially save 100s of dollars on your medicare bills.
Changing how you dress when you go out in the evening might be a no-brainer, but if we left this particular detail out, you would probably wonder why we did not think of such an obvious choice. Keep in mind that I am not talking about wearing the full fledged puffy coats, thick mittens and stocking hat. For most of us around the country, the evenings are starting to be a bit cool, they are not yet frigid. 
This means that you can likely still go outside without a winter coat on, though a light jacket might be preferable for some who do not like the drop in temperature at all. More than likely, this time of year, dressing warmer is going to mean putting on a nice sweater on over your clothes. Luckily there are plenty of sharp cardigans that will keep you comfortable without having someone screaming at you that you are wearing a "Cosby sweater."
~
Staying warm outdoors
The arrival of fall does not mean that you have to shut yourself indoors and wait until the spring thaw. There are still plenty of activities you can do outside, such as grilling, leaf peeping and of course trick-or-treating. 
You can also just hang out on your back deck or porch and stay plenty warm as long as you have a outdoor fire-pit to keep you warm. These have gotten more popular in the last few years mainly because they really aren't that expensive and they provide a place where people can gather around an open fire, knowing they are as safe as can be expected.
The best part about these is that they can be more than just a way to keep warm on a cool evening. If you have kids, or are just a kid at heart you can also grill hot dogs or marshmallows using these fire-pits. Get a couple of outdoor fireplaces and you can even have a fall-themed party that can be moved inside if it eventually gets too cold to be outside comfortably.
Curl up with a good book
Fire pits are great if you want to gather around a fire outside, but fireplaces are even better. Some people feel that first cool bite of autumn and decide that it is indeed time to take refuge inside. That is even better if you can actually sit in front of your fireplace and read that book you have been meaning to get to for months.
If you are able to cuddle up with that special someone in front of that raging fire, then staying warm gets quite a bit more fun rather quickly.
Popular Savings Offers