When you buy something using the retail links in our posts, we may earn a small commission. Catalogs.com does not accept money for editorial reviews. Read more about our policy
here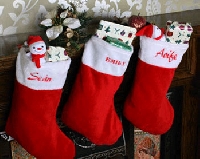 Surprise your family with some indulgent stocking stuffer gift ideas this year
Do you really want to treat someone special this Christmas? Why not give them a Christmas stocking full of little gifts meant to indulge them? While indulgent gifts can be expensive, smaller gifts that go in a Christmas stocking tend to be less inexpensive ? but can be just as indulgent.
When thinking of indulgent stocking-stuffer gift ideas, consider products that treat the senses: items that smell yummy, taste delicious, feel soft, look lovely and sound wonderful. Also think about them men and your life and come up with some unique gifts for men. An indulgent gift makes someone feel like you went to extra trouble to treat them to something special rather than giving an ordinary gift.
Mini Scented Candles. Candles are perfect for wintertime. They add a warm, inviting glow to any room; a scented candle adds a delicious scent as well. There are lots of popular scents for wintertime candles: peppermint, bayberry, pine, cranberry, pumpkin, holiday spice, mulling spices, gingerbread and chocolate, to name a few.
Spa Services. A spa-related gift is the most relaxing of the indulgent stocking-stuffer gift ideas. Purchase a gift certificate for a massage, a facial or a manicure and pedicure. Think of what service your friend or family member would enjoy most. The best way to find a great spa is to ask your friends, coworkers and family if they have been to any spa that they especially liked. Many spas have Web sites where you can order services directly.
Trial-Size Beauty Products. Who doesn't enjoy a day of beauty? There are lots of new beauty products available, especially during the holidays. Many offer trial sizes for sampling, either for free or for a minimal purchase. Combine these beauty products to offer your friend or family member a luxurious day of beauty. A facial, manicure and a relaxing soak in the tub could provide the perfect day ? all with products you use at home.
~
Yummy Treats. Lots of people love sweet treats of different types. Chocolate truffles are a popular treat. So are chocolate-covered espresso beans. Godiva makes a delicious hot cocoa mix that would be ideal to stuff in a Christmas stocking. Giving someone sweet and yummy treats they can sample and dig into whenever they desire is certainly an indulgent gift.
Toys. Giving someone a mini Rubik's Cube or fun puzzle could be the perfect indulgent gift that makes their eyes light up with joy. Why? Because they wouldn't buy it for themselves. It is also the type of thing they will fiddle with all year. Give them some fun little toys. Stickers, joke books ? give something that brings out their inner child.
Jewelry. Jewelry of any type would fit perfectly in a stocking. There are so many different ideas for jewelry gifts: a vintage charm bracelet with charms that remind the person of his or her high school years; a birthstone ring for your teenage daughter; a pair of diamond earrings for your wife. Jewelry is certainly an indulgent gift!