Stylish women's clothing
By Catalogs Editorial Staff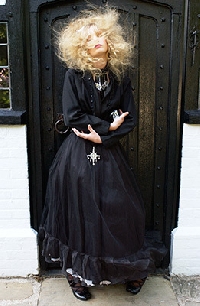 Get a one-of-a-kind look with stylish women's clothing from the past
The look is all yours. The chances of seeing someone else at the party or office wearing exactly the same outfit is…well…zero! 
But you're wearing the hottest look in stylish women's clothing, so how can that be? 
Simple!  You've chosen vintage chic and the style is 100% original. That creative pastiche of clothing and accessories from different eras, different designers, even different parts of the world puts you in control of your fashion style.  And the results are amazing!
Before you continue reading about the Stylish women's clothing there is a special announcement we would like to share with you. Catalogs.com has negotiated special medicare rates for our vibrant community of seniors. If you are over the age of 60, you can head over to our Seniors Health Section which is full of information about medicare. All you need is your zip code and a few minutes of your time to potentially save 100s of dollars on your medicare bills.
Never tried it?  Never bought anything that didn't come from a retail rack?  Girl, it's time to give vintage chic a try! 
You know the why…you're bored with your look.  Uninspired by by the ordinary.  Ready for a change.  The who is easy, too.  Any women who is ready to give up the cookie cutter look for something sizzling. 
Now let me give you the what, where, and how.
~

What on earth should I buy?
There are two choices here: go for the whole head-to-toe vintage look or add a few vintage pieces to your regular outfits.
If you want to ease your way in, the best choices are:
Purses —

Beaded bags

, shaped bags from the 1940-60's, rigid plastics from the 1950-70's.  Make sure clasps work, hinges are secure and handles are on securely.
Soft accessories – Shawls,

scarves

, wraps, belts, etc. Look for ethnic styles, handmade lace, fine silks or handwoven materials. A soft pashmina or

cashmere mckoosh

are excellent options. Check for rips, tears, stains or fraying before you buy. Also, never underestimate the importance of

the right shoes

.
If you're ready to make the leap into a whole vintage look, your best bets are:
Dresses — Dresses have always been the standards in stylish women's clothing, so it's relatively easy to find vintage dresses in good shape. Couture fashions from the 1940's through the early 70's are a good choice, and remain fairly affordable especially when compared to today's newest offerings.
Blazers and jackets — Women's

jackets

in wool, denim, cotton and linen are all excellent choices for the vintage clothing shopper. Handpainted or embroidered denim jackets from the 1960's and 70's are in high demand, so expect higher prices on those items.
Coats — Winter coats used to be a major element in trendsetting stylish women's clothing purchases. Swing coats, pea coats and trench coats are all great ways to add a retro look to your wardrobe now.~
Where to find the goodies
Quality vintage clothing can be found in almost city and town across the country if you know where to look. If you're near a city, look for the area with small galleries and little cafes.  You'll usually find a few vintage clothing shops stuck in there among the other treasures.
If you're looking for a more affordable source for the stylish women's clothing of yesteryear, try thrift stores, consignment shops, church rummage sales and (my personal favorite) estate auctions. Family attics and the closets of elderly relatives are also great source…just ask before you take their treasures, even if they haven't worn them in 50 years!
How to choose what to buy
Whenever you're buying retro or vintage fashions, there are a few rules to keep in mind.
Make sure it fits — Just because it's vintage and looks cool on the hanger, doesn't mean it will look good on you. Try everything on before buying, if possible.  If it's super cheap at a yard sale, take your chances and try it on at home before you set foot outside. Women's sizes have changed dramatically over the years, so a tag is not proof that something will fit.

Make sure it's in good shape — As fabric ages, it weakens, so give any garment you're planning on buying a LIGHT tug. Make sure the threads don't separate and the seams are not fraying. Minor repairs like reattaching buttons or replacing zippers are to be expected everywhere except in the high end vintage shops, but fragile older fabrics can be hard to work with, so be careful.

Make sure it goes together — Sure, you're going for a unique look, but that doesn't mean bag lady. Make sure the things you put together look good together.
Now it's time to shop. The mall?  Forget it! The outlets?  No way!  Thrift stores, here we come!
Popular Savings Offers