Top 10 Fantastic Summer Celebration Tablescape Ideas: Your Best Guide
Warm weather is prime outdoor party time. The key ingredients to a memorable summer soiree are good food, good people, and festive décor tablescape ideas to pull it all together. These top elegant summer celebration tablescape ideas that we feature below will enhance your dinner atmosphere with friends or family.
Whether you're dressing up a picnic table or lighting the area with tiki torches, you can achieve these amazing tablescape ideas for a perfect dinner and get together with the ones you love.
10. Beach Party
Surf's up somewhere. Even if the nearest beach is far from sight, it's hardly out of mind this season. Use bright, colorful summer silverware to inspire your arrangements of
fresh fruit salads
and sizzling kabobs. Set them on a light cloth so the blues, pinks, and oranges can shine.
9. Moonlight and Candles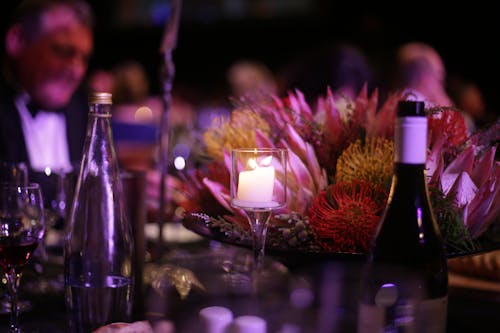 An evening under the stars with friends and family is the perfect occasion to light some seasonal candles. This is one of the best tablescape ideas because everyone looks good under the soft glow of candlelight. Set finger foods and other treats on a
tall glass centerpiece
that'll twinkle as flames flicker. Add a few drops of lemon or mint oil to melting wax for a fresh, invigorating aroma.
Before you continue reading about the Top 10 Fantastic Summer Celebration Tablescape Ideas: Your Best Guide there is a special announcement we would like to share with you. Catalogs.com has negotiated special medicare rates for our vibrant community of seniors. If you are over the age of 60, you can head over to our Seniors Health Section which is full of information about medicare. All you need is your zip code and a few minutes of your time to potentially save 100s of dollars on your medicare bills.
8. Nautical Tablescape Ideas
Capture the calm of ocean breezes against your sail with a clean, nautical theme. Many of these elegant summer celebration tablescapes nod to summer's most expansive muse: the sea. The classic color scheme of blue and white makes flower and linen decisions easy. Add visual interest with star-patterned napkins and sea shells around candles for texture.
7. Tropical Bliss Tablescape Ideas
The heart sings for the open road, a one-way ticket someplace beautiful. However, for practical reasons, a vacation will have to wait. You're not the only one with summer wanderlust. Invite your fellow staycationers over for a little escapism.
You can still achieve tropical tablescape ideas with a perfect tropical summer feel. You can do this by setting up tropical flower arrangements beneath an oversized umbrella to create a shady oasis. Drape exotic shawls over the backs of chairs to warm guests once the sunsets.
6. Campfire Nostalgia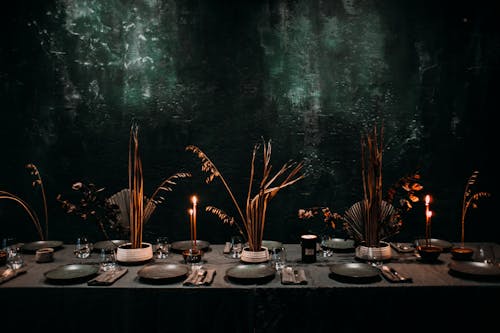 Throw a well-worn, clean camp blanket over the table to set a rustic, outdoorsy mood. Dress up the s'more station by organizing the fixings in small tin pails, add a couple of other dessert options, and other things you need for glamping. Surround the party area in white rope lights for an enclosed, cozy feel. Make a centerpiece with wildflowers and tie a rope around the vase.
5. Pre-stargazing Dinner Party
These elegant summer celebration tablescapes leave plenty of room for indulging the imagination. Tap into the magic of a dark, clear night under a sky full of stars with a few whimsical touches. Set clusters of hydrangea in open glass containers. Hang glittery stars from branches, bring out a telescope, and after dinner let the stargazing begin.
4. Vintage Seasonal
Charm your guests with vintage home accents like vintage tinware, maritime seat cushions, and a
durable quilt
as the tablecloth. Hang battery-powered lanterns from branches and surround your dinner party with found treasures. Use an antique pitcher to hold silverware and hang parasols upside down from trees to increase shade.
3. Unexpected Twists
Keep your guests on their toes with one unexpected twist after the next. Minimize clutter on the table without sacrificing flowers or candles. Combine them by placing glass stemware upside down over flower blossoms and setting tea lights on top of the upturned glassware. Use a carved-out watermelon as the punchbowl and freeze berries in the ice cubes for a fruity surprise.
2. Laid Back Garden Party
Spread a burlap table cloth over the picnic table and embrace the spirit of resourcefulness. Use large leaves for coasters and sweeten the bubbly with fruity popsicles. Gather trimmings from hedges and vines around bowls of fruit and scented candles. A
back garden
party will definitely go out of season.
Popular Savings Offers
1. Homemade Americana
A table of homemade summer pies is quite the sight for greeting hungry guests. Hang bright paper chains for a pretty, handmade backdrop. For kids, replace the usual juice boxes with mason jars and fill them with sun tea or fresh lemonade, and don't forget the swirly straws.