Take your woodworking project to the next level
By Catalogs Editorial Staff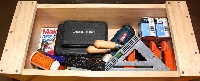 Take your woodworking project to the next level to move from novice to craftsman
After you've worked with wood for awhile and mastered all the basic techniques, you're probably ready to take your woodworking project to the next level. 
Here are some ideas for adding more polish and those elusive finishing touches to give your project a professional look and feel. 
Invest in the right tools

When you're a woodworking beginner, that "good enough" saw or cast off drill is probably fine. But once you've decided to step up from beginner to pro, the tools you use matter. 
Before you continue reading about the Take your woodworking project to the next level there is a special announcement we would like to share with you. Catalogs.com has negotiated special medicare rates for our vibrant community of seniors. If you are over the age of 60, you can head over to our Seniors Health Section which is full of information about medicare. All you need is your zip code and a few minutes of your time to potentially save 100s of dollars on your medicare bills.
Now is the time to look at the tools you use most often, and start looking for the very best versions you can afford. Until you've replaced that thrift store sander with one designed for furniture finishing, or traded in the garage sale jigsaw for a state-of-the-art one, you can't imagine the difference it will make in the woodworking process…or the quality of your finished work. 
If you have identified your woodworking passion and special talent, like clock making, stock up on clock repair parts and the tools you need to for your workshop.
Upgrade your skills
The methods you used as a beginner probably won't give you the more finished, professional look you now want. Look for workshops, classes or seminars in your area. Spend time with crafts people who are on the next level, and are willing to share their secrets. 
~
Make sure every measurement is precise
Fine woodworking means perfect corners, evenly planed surfaces and precisely joined edges. If you're ready to take your woodworking project to the next level, step up your attention to measurement. Write down your measurements accurately (and yes, those little lines between the numbers matter!) and then double or even triple check before you cut or attach anything. Use calipers to measure very small elements.
Pay attention to the details

If the plans for your piece call for a very specific type of wood or certain kinds of fasteners, don't randomly substitute something else just because you have it on hand. Yes, of course you can make changes to express your creativity. But make sure the substitutions you make are taken into account when it comes to measures, structure or appearance. 
Think twice about embellishments
Woodworking done by beginners is often identifiable by the amount of extra embellishment. Trim and curlicues are added everywhere. Molding is tacked on where molding never belonged. 
The extras can truly define a piece of fine wood crafting. Just make sure everything you add truly enhances the final piece. 
Never skimp on finishes

Nothing ruins a piece of furniture or a wood project faster than the wrong finish. Layers of glossy verithane, cheap streaky paint or poorly applied stain can destroy all the work you put into building or carving or assembling. The finish is the last thing you do, but it's the first thing someone viewing your work will see, so take your time, prep your surfaces and do it right. 

Use the right accents
Whether it's the knobs you select for the drawers, the fabric for the upholstery or the pulls for the doors, the accents and materials that complete your woodworking project are almost as important as your craftsmanship and your finishes. 
Cheap knobs or pulls will detract from all the work you did. The wrong fabric will leave your creation looking off…or awful. 
Get Creative
Once you have the skills and tools you need, it's time to step away from the plans and try your hand at designing a project of your own. Use your favorite kinds of wood, gather your tools and start to dream. Create a plan (don't forget those measurements and details!), then start building. Creating something that's all your own is the ultimate way to take your craft to a higher level.
Popular Savings Offers