When you buy something using the retail links in our posts, we may earn a small commission. Catalogs.com does not accept money for editorial reviews. Read more about our policy
here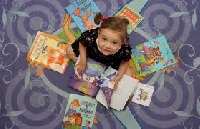 Teaching Judaism to children communicates both heritage and spirituality
Teaching religion and spirituality to children is often important to parents; however, not all know how to provide instruction. One of the key elements is relaying the information in a language young people will understand, as well as making the process fun and interesting.
If you implement a few different elements into your methods, you'll likely find that teaching Judaism to children can be a rewarding experience for all involved.
Toys
Sitting your youngster down and simply relaying the information will likely cause him to lose interest quickly. He may become bored and dread the entire interaction all together. Prevent that from happening by explaining the religion using Judaism-inspired toys.
Your young one may find that playing with blocks that feature the Jewish alphabet teaches him the symbols without him even being aware of it. Hanukkah finger puppets or a soft activity book could keep him entertained for hours and help him better understand the religion.
Wooden Passover, Shabbat and Rosh Hoshannah play sets are not only exciting to play with, but helps the child see and understand the elements that are used in each occasion. ~
Books
Appeal to your child's love of reading by incorporating Jewish books into your teachings. Such books often feature interesting and easy-to-understand stories that enforce your youngster's literary skills and teach them about the religion.
Books also feature pictures that could help your son or daughter better grasp the fundamentals of the Jewish religion.
Give your little one a hands-on experience by using a Jewish children's cookbook. Working with you in the kitchen to create traditional Jewish cuisine gives you the opportunity to cook with your son or daughter, as well as teach him or her about each dish. Cooking also allows the youngster to practice his or her measuring and mathematics skills. Additionally, spending time in the kitchen together also allows time for bonding and enjoying aspects of the religion together.
Further enforce stories of the religion by ending the night with a Jewish bedtime story. Lull your child off to sleep with tales that feature Jewish values. Your little one will be left with a peaceful experience and a valuable lesson. 
Games
Jewish-inspired games enforce the elements of the religion while providing entertainment. Puzzles and memory games that feature the Jewish alphabet can help your little one memorize the symbols without much effort.
Bingo, dominoes and CD rom-style games also help to instill Jewish fundamentals in your litte one. These games also allow you to have fun with your youngster while still providing education regarding the religion.
Family Heirlooms

Showing your son or daughter photographs of time you have spent with your friends and family celebrating the Jewish religion can also help him or her understand.
Tell your child stories that relate to each picture and explain what each photograph features. You can then go on to tell him or her why that activity pertains to the religion. Seeing you and others who are important to the child participating in the religion may make understanding easier.
Pulling out important objects, such as a menorah or yarmulke, gives the child something to hold on to and see. Having concrete religious items such as these may help your little one better grasp the belief.
Teaching Judaism to children may seem like an intimidating task, but when you think about how a child learns and then incorporate those ideals in your lessons, you're sure to succeed and have fun doing it.