Non-traditional Thanksgiving recipes
By Catalogs Editorial Staff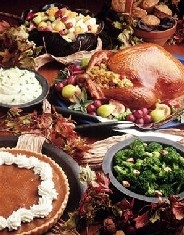 Non-traditional Thanksgiving recipes can bring variety to your table.
We all have our favorite Thanksgiving recipes, the dishes that we expect to see on the table. If those recipes ? turkey, cranberries, stuffing ? aren't there, it just wouldn't be Thanksgiving. While we should hold to those beloved traditions, it is also fun to branch out to some non-traditional Thanksgiving recipes, giving your holiday table a unique variety of flavors, textures, and colors. Make your shopping list and get out your kitchen gadgets; these recipes can bring a spark of something different to your celebration.
Grilled Oysters
Seafood was included in the first Thanksgiving, so why not include it in yours?
Ingredients:
24 unopened, live medium oysters
® teaspoon salt
1 teaspoon black pepper
1 tablespoon chopped fennel greens
1 teaspoon ground fennel seed
1 cup unsalted butter, softened
1 tablespoon shallots, minced
Directions:
Preheat oven to 500 degrees Fahrenheit.
In a small bowl, combine the butter, salt and pepper, chopped fennel greens, ground fennel seed, and shallots.
Arrange the oysters on the oven rack and cook for three to five minutes. They should be hissing and starting to open.
Pry each oyster open at the hinge, loosen the oyster a bit, and remove the flat shell. Top each oyster with ® teaspoon of the butter mixture and return to the oven until butter is melted.
Southwestern Vegetarian Bake
Don't forget your vegetarian guests; this casserole will give them something savory and filling. You can also substitute low-fat cheese and sour cream to make it a low-calorie offering.
Ingredients:
? cup uncooked brown rice
1 cup shredded Mexican blend cheese
1 cup shredded cheddar
1 can sliced olives (2 ª oz.)
® cup chopped red onion
1 ® cups water
1 can black beans, rinsed and drained (15 oz.)
1 can Mexicorn, drained (11 oz.)
ª teaspoon pepper
1 cup sour cream
1 cup salsa
1 can diced tomatoes with green chilies (10 oz.)
Directions:
Combine rice and water in a large saucepan. Bring to a boil, then reduce heat, cover, and simmer for 35 to 40 minutes. Rice should be tender.
In a large mixing bowl, combine rice, beans, corn, tomatoes, salsa, sour cream, pepper, and cheddar cheese.
Coat a 2 ® quart baking dish with cooking spray. Spoon rice mixture into prepared dish, and then sprinkle with onions and olives.
Bake at 350 degrees Fahrenheit for 30 minutes. Remove from oven and sprinkle with the Mexican cheese. Bake 5 to 10 minutes longer, until cheese is melted.

~
Almond and Onion Green Beans
Instead of making the typical green bean casserole, try this variation.
Ingredients:
3 pounds green beans, trimmed
® cup sliced almonds
3 tablespoons unsalted butter
5 tablespoons olive oil
2 large onions, sliced thin
Salt and pepper
2 tablespoons chopped fresh thyme
Directions:
Fill a large-sided skillet with water to an inch from the top. Bring to a boil over high heat; add the green beans and a large pinch of salt. Cook for five minutes, then remove beans from heat, drain them, and rinse with cold water. Set aside.
Return skillet to the stove top over medium heat. Add the almonds, and toast until golden brown, stirring often. Remove the almonds from the skillet and set aside.
Add butter and olive oil to the skillet and heat until melted. Add the onions and salt and pepper to taste. Saut? until the onions caramelize, stirring often. This will take about 20 to 25 minutes. Add the thyme and cook an additional 5 minutes.
Add the green beans and almonds and toss with the onions mixture. Season with additional salt and pepper if needed.
Stuffed Onions
Try this recipe the day after; it's a tasty way to use up those Thanksgiving leftovers.
Ingredients:
1 1/3 cups mashed potatoes
® cup turkey gravy or broth
2 cups cooked turkey, chopped
6 tablespoons cranberry sauce
1 cup cooked turkey dressing or stuffing
® teaspoon sugar
ª cup heavy cream
ª cup chicken broth
4 large onions
Salt and pepper to taste
Directions:
Preheat oven to 425 degrees Fahrenheit. Cut the top off each onions, about ® inch, and peel. Use a melon-baller to scoop out the inside of each onion, leaving the sides about 1/3 inch thick and the bottom slightly thicker.
Place the scooped out onion in a 9×13 baking dish and drizzle with chicken broth. Turn the onion shells upside down on top of the onion pieces. Cover with foil and bake for 45 to 50 minutes, until the shells are barely tender. Remove the shells from the oven and set aside.
Stir cream, sugar, and salt and pepper into onion pieces and bake for an additional 25 minutes, stirring often.
Into the onion shells, layer ª cup stuffing, 1 ® tablespoons cranberry sauce, and ª cup turkey. Pack the layers tightly.
Arrange the stuffed onions on top of the onion mixture in the 9×13 dish. Pour 2 tablespoons of gravy into each onion top. Top each onion with 1/3 cup mashed potatoes, heaping them up into a mound. Bake for 30 to 40 minutes, until the potatoes are golden, stirring the creamed onions occasionally.

These non-traditional Thanksgiving recipes will help bring a little variety to your holiday table.
Popular Savings Offers
Before you continue reading about the Non-traditional Thanksgiving recipes there is a special announcement we would like to share with you. Catalogs.com has negotiated special medicare rates for our vibrant community of seniors. If you are over the age of 60, you can head over to our Seniors Health Section which is full of information about medicare. All you need is your zip code and a few minutes of your time to potentially save 100s of dollars on your medicare bills.