The perfect Christmas tree
By Catalogs Editorial Staff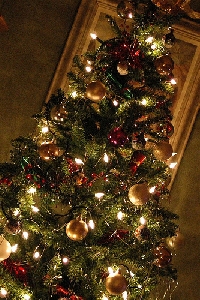 The perfect christmas tree can be yours this holiday season
The warmth of home, the laughter between friends and family, the anticipation of kids and adults alike — it can only mean one thing: it's the holidays!
For those looking to fill out their homes with good tidings and great cheer, finding the perfect Christmas tree is a family tradition.
So, how does go about getting that flawless variety? Well, it takes a little bit of time, effort, and knowledge, but the end result will be well worth it. We promise!
Before you continue reading about the The perfect Christmas tree there is a special announcement we would like to share with you. Catalogs.com has negotiated special medicare rates for our vibrant community of seniors. If you are over the age of 60, you can head over to our Seniors Health Section which is full of information about medicare. All you need is your zip code and a few minutes of your time to potentially save 100s of dollars on your medicare bills.
The Top Varieties
David Stenger, manager of the National Christmas Tree Association, owns and operates a choose-'n'-cut tree farm out in Oregon, IL. According to him, the top five varieties are:
Balsam fir
Douglas fir
Fraser fir
Noble fir
Scotch pine
Why is this, you ask? Well, each of these varieties ranks quite highly with Stenger in terms of possessing the best shape, richest color, some of the lushest branches, and unbelievable needle retention. During the selection process, be sure to run your fingers along the needles and even shake the branches. This will show you if the variety is fresh; if so, the needles will be pliable and very few will fall during your demonstration.
Prior to your expedition, you'll want to measure the height of your ceiling; choose a variety that is at least one foot shorter than the ceiling height. Bring a tape measure on your odyssey — It will be important to measure your stand, as well, in order to make sure the base will fit. The base should be at least six inches long and straight for best results.
Also consider your decorating style. If you have years' worth of Christmas ornaments, you'll want a tree with lots of branches, many or all of them slender enough to handle the hooks. If you like setting up a Christmas train around the bottom, make sure you select a stree with enough clearance from the bottom branched to the floor. And if it just woundn't be Christmas without a big angel, dramatic star or handblown glass topper, make sure the tree you select has a single, strong branch reaching upwards on the top. 
And get this: The National Christmas Tree Association webpage offers a locator tool for your specific area. If you're looking for a farm or lot near you, look no further. At the locator page, type in your city and state and click search. You'll be presented with a wealth of options for your next holiday purchase — It's literally that easy to find your perfect variation.
For more information on keeping your purchase fresh, as well as keeping safety at the forefront, head over to the Reader's Digest article, "Pick the Perfect Christmas Tree," to learn much more.
How to Pick the Right (Artificial) Variety: It's about Simplification
Over at Lowes and Easy1, Inc., their webpage offers a nice little guide toward picking (and fitting) the artificial variety for your home. The prospective buyer will be able to insert a variety of measurements and requirements into the site, such as:
Height of your ceiling
How wide you want your variety
Should it come with lights already on it?
Other special features you require, like LED lights, plug/s, and more
Your particular budget
After inputting your ranges and measurements, Lowes and Easy1, Inc. will send back matching results. Now, if you're looking for a slightly larger selection, no worries. Keep reading.
Another popular range is to shop a wider range of both artificial and live trees; you'll be able to input the exact details you would like in your new purchase and they will create the perfect christmas tree for you. Here's how it works:
They'll offer a variety of different branch types, such as:
Noble
Fraser
Balsam
Spruce, and more
For the artificial variety, each is made to look exactly like its real counterpart.
Live varieties
will come specifically from a farm in North Carolina. They'll offer different heights, widths, bulb types for the lights, and price ranges. Again, do make sure the shape will work with your
Christmas ornaments
and decorating style before you buy.
~
From picking gifts, figuring our dinner guests, preparing the holiday meal, entertaining, and handling everyday responsibilities, it can get a little hectic. Even for the best of us. With online help like this, it takes some of the hassle of the season out and puts back some of the warmth, relaxation, and family time you so dearly crave.
Whether a live or artificial variety, it doesn't matter in the end. It's about family, friends, food, wine, presents, and everything in between. To have a great looking tree as your centerpiece is just icing on the cake. So, be safe, have fun, and enjoy the holidays!
Resources:
Reader's Digest: Pick the Perfect Christmas Tree.
Yahoo.com: How to Get a Picture Perfect Christmas Tree?
Popular Savings Offers