Creating a playground for themed play
By Catalogs Editorial Staff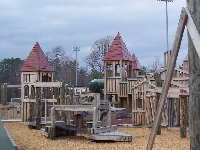 Inspirational tips for building creative, whimsical themed playgrounds
Playgrounds are beloved and sacred spaces where children can step into a world of imaginative play. In addition to being fun and entertaining, playgrounds enhance physical fitness, coordination, fine motor skills. Creating a playground for themed play can help children to improve their social skills and communication techniques.
Common playgrounds featuring slides, money bars or swings can be found in most school yards and day care facilities. Imaginative children have the ability to transform even the most mundane jungle gym into a jungle, a space ship, or a time machine, where the playtime actions of climbing, swinging,  sliding and jumping take on meaningful, lifelong lessons involving teamwork, creativity and social bonding.  
However, out-of-the ordinary themed play playground equipment has become one of the hottest trends for schools, summer camps, day care facilities and family attractions such as museums, zoos or parks. Themed play playground equipment can even be found in public spaces such as airports, libraries, shopping malls, and restaurants.  
Before you continue reading about the Creating a playground for themed play there is a special announcement we would like to share with you. Catalogs.com has negotiated special medicare rates for our vibrant community of seniors. If you are over the age of 60, you can head over to our Seniors Health Section which is full of information about medicare. All you need is your zip code and a few minutes of your time to potentially save 100s of dollars on your medicare bills.
So what exactly is a theme playground? Whimsical, kid-friendly sculptures, climbing structures and surfaces designed around a specific theme are generally described as ?themed play? equipment. Are you interested in designing, building or purchasing a theme playground? Here are just a few examples of the most innovative and imaginative playground themes to date.
~
Nautical Themes: Submarines, Sailing Ships, Pirate Ships
Children are natural explorers, always up for an adventure. Regardless of whether your playground site is landlocked or near the seashore, give them the freedom to sail the high seas. Creating a playground for themed play with wooden ship structures with rope ladders, port holes, tall masts flying Jolly Roger flags, slides shaped like gang planks, realistic cannons and classic wooden ship steering wheels, and other custom nautical components will provide a wonderful setting for hours and hours of make-believe play.  
Medieval Castles, Dragons, Princesses and Enchanted Forests
Sturdy wooden structures shaped like castles, towers and turrets will be enhanced by climbing walls, dragon sculptures, pretend moats crossed by balance beams, arches, drawbridges, and murals of enchanted forests. Children of all ages will enjoy playing Robin Hood, Sleeping Beauty or acting out the stories of King Arthur's Court. A theme playground inspires imagination games, teaching opportunities and constructive play.
Heroes and Rescue Vehicles
Some themed play playground equipment made of durable plastics and hard polymers has evolved into the extraordinarily realistic shapes of fire trucks, ambulances, rescue helicopters and even fire houses. These play areas include pretend fire fighting hoses, fireman's poles for sliding or even bells, whistles and flashing lights. Give your children the opportunity to save the day as rescue heroes!
Custom designed playgrounds have become a trend, as well as major industry for artists, engineers, architects, builders… and other grown up professionals who are still kids at heart. For example, custom designed climbing structures shaped as airplanes have been commissioned by international airports. Storybook characters and other whimsical sculptures have been commissioned by public libraries.  
Brainstorming a playground design concept with the children who will be utilizing it, is a great way to begin the planning process. Then, search the internet for a list of playground design consultants or recreation design architects. Before undertaking a project or hiring a design firm, ask for blueprints, sketches and 3D renderings.
Popular Savings Offers