10 Beautiful Summer Wedding Bouquet Designs on your Big Day
The type of flowers that you choose for your bridal wedding bouquet is dependent upon your personal style and what appeals to you color-wise as well as which flowers you prefer and which overall bouquet shape you are drawn to.
The first decisions you must make when deciding upon your bridal bouquet are what kind of flowers you want to use and the shape of the ultimate bouquet. Your choice will depend on the style of your dress, your personality, and preferences, the locale of the wedding, the general tone of the event (formal, informal, beachside, etc.) but mostly on what look you like the best.
Here are the top ten summer wedding bouquet designs:
10. Hand-tied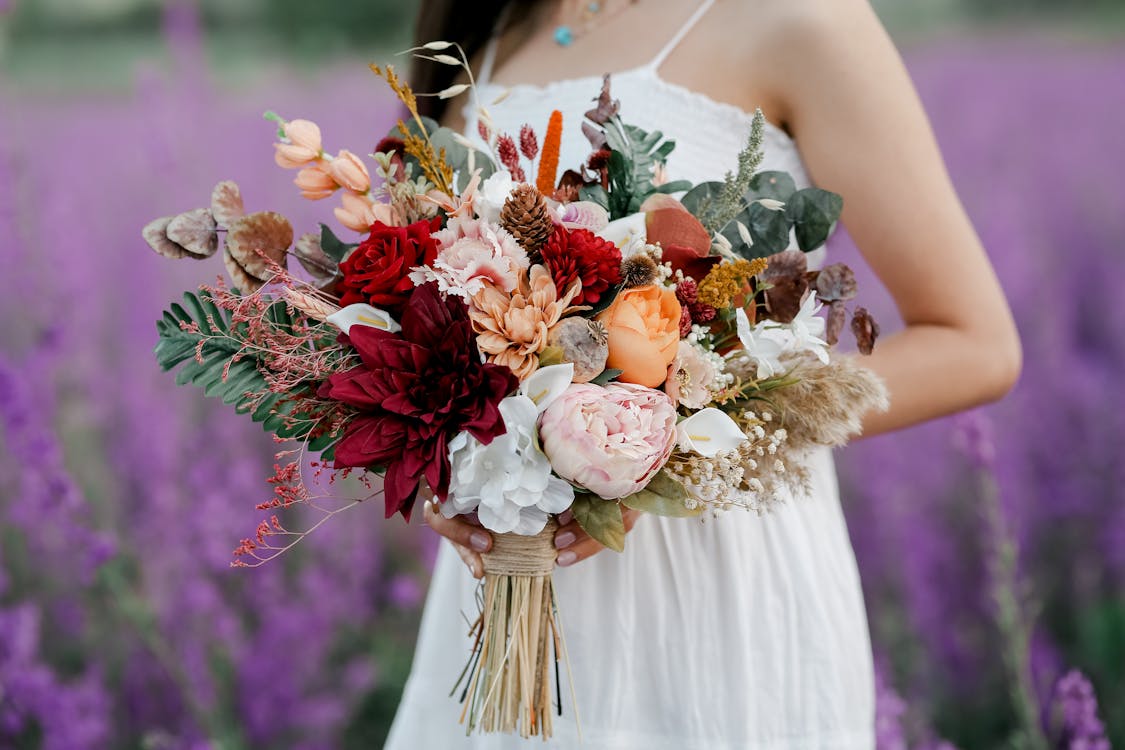 Decide if you want a hand-tied bouquet, which means that the flowers are gathered together tightly, and the stems are wrapped in satin ribbon in the color of your choice. You can dress up the bouquet using rhinestone picks, brooches, crystals, pearls, and beads that can be attached to the ribbon or to the flowers themselves. If you are a back-to-nature bride, add pinecones, feathers, berries, or other natural elements to your hand-tied bouquet.
Before you continue reading about the 10 Beautiful Summer Wedding Bouquet Designs on your Big Day there is a special announcement we would like to share with you. Catalogs.com has negotiated special medicare rates for our vibrant community of seniors. If you are over the age of 60, you can head over to our Seniors Health Section which is full of information about medicare. All you need is your zip code and a few minutes of your time to potentially save 100s of dollars on your medicare bills.
9. Herbs
An original idea would be to do a bouquet in all green using herbs. This will certainly elicit a response from your guests because you don't often see a green bouquet. Include rosemary, sage, mint, basil thyme, sweet marjoram, lavender, which will give the bouquet a splash of color, and oregano into your green bouquet and your guests will get a whiff of heaven as you stroll down the aisle.
Herbs like flowers represent certain things. Sage, for example, means domestic sweetness and long life.
8. Wildflowers
A wildflower bridal bouquet lends itself, particularly well to an outdoor summer wedding. Select from lupine, lavender, goldenrod, Shasta's daisies, daylilies, peonies, or anything else that is in bloom in your yard and garden.
7. Eclectic
If you tend to be eccentric, who walks to the beat of a different drummer type of bride opt for an eclectic bridal bouquet that can be configured out or just about anything, including feathers, buttons, crystals, beads, tree branches, or anything that strikes your fancy. You can incorporate flowers into the bouquet on your
wedding day
if you wish, but you don't have to.
6. Contemporary
If you are saying to heck with tradition, choose a contemporary bridal bouquet, using unusual elements in the bouquet such as pods, spirals, and large-blossom flowers. A
contemporary bridal bouquet
isn't any specific shape. Get your inspiration from patterns, designs, and your own personality. This bouquet can be small or large, a nosegay or cascade or hand-tied. You may even want to incorporate mini lights into your bouquet or lots of lace, glitter, beads, and ribbon.
5. Nosegay
The nosegay is a very popular choice in bridal bouquets. It is round and tight. This style is about 16 to 18 inches in width and is packed densely with the flowers of your choice. Some brides choose a nosegay featuring just one flower or a combination of flowers, such as roses, tulips, calla lilies, ranunculus, and hydrangea. The nosegay bouquet looks like a ball of flowers. This type of bridal bouquet was extremely popular during the Victorian era. Sometimes it is referred to as the Tussie Mussie or Posy bouquet.
4. Cascade
The cascade style is considered the more traditional of bridal bouquet styles and the most formal. The flowers and greenery in the arrangement "cascade," or flow downward. This is a very ethereal and airy look. Trailing greenery such as ivy is used to give the cascading effect. Hydrangeas are beautiful in this type of bouquet as are lilies. Cascade bridal bouquets are also called waterfall bouquets or teardrop bouquets. This type of bouquet lends itself well to stephanotis, ivy, orchids, and/or roses in the colors of your choice. Mixing a mix of old-fashioned flowers with more contemporary flowers is an excellent effect. If you want the just-picked more casual, looser-flowing look instead of a tightly-bound arrangement tell your florist this is what you want.
3. Roses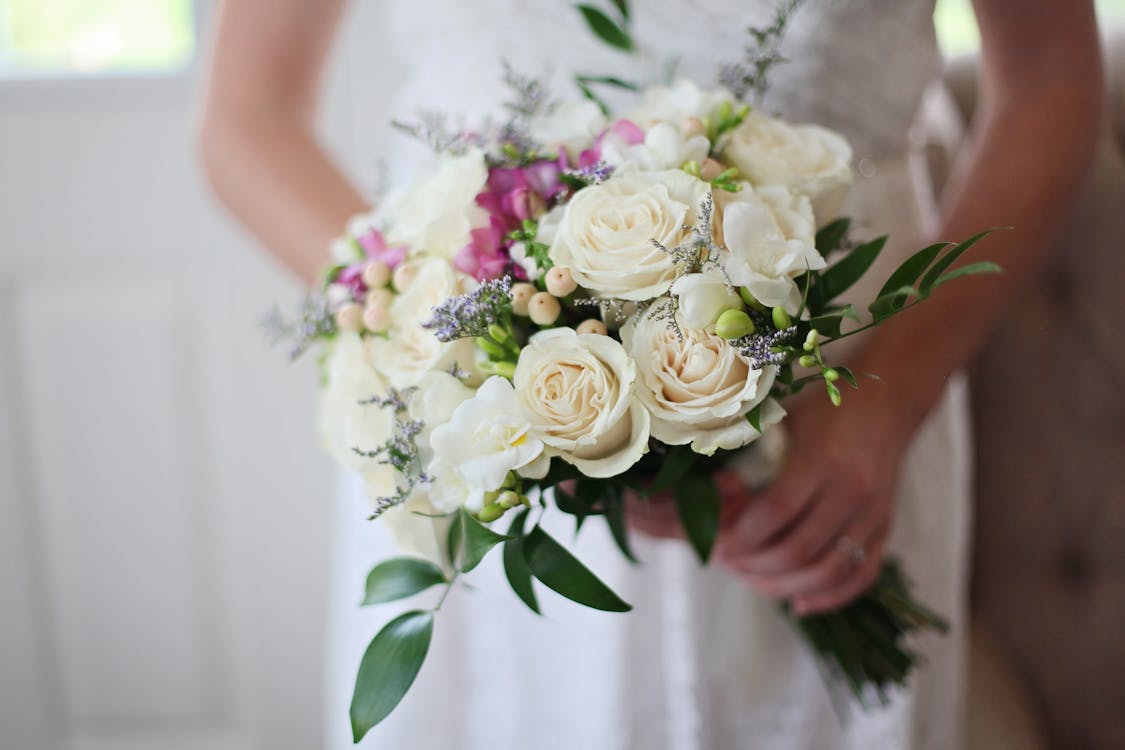 Roses are always a top choice when it comes to bridal bouquets. However, if you are a bit trendier opt for peonies, lilies, orchids and/or tulips.
2. Garden
Summer is the season for weddings, many of which are outdoors. An outdoor wedding is likely to be more festive and colorful than one that is indoors simply because you have the natural habitat—trees, flowers, bushes, water, the sky—as your backdrop. Pick a bridal bouquet that is dynamic and colorful and, of course, is in the shape that you prefer. You can use fresh-cut flowers from your own garden, and this can make a beautifully natural bouquet. If you are a lover of color consider using deep orange roses with pink roses, purple and green hydrangea and pink mini calla lilies, yellow tulips, white calla lilies, and cymbidium orchids. This will provide a burst of color to the festivities.
Popular Savings Offers
1. White
The all-white bridal bouquet is always elegant, classic, and timeless. Combine white, off-white, champagne, and ivory roses or white tiger lilies, lily of the valley, anemones, calla lilies, freesia, gardenias gladiolus, and stephanotis with some delicate, trailing greenery and this is the perfect combination. Entwine pearls throughout the arrangement. This is a tres chic look wedding bouquet. White represents a new beginning, innocence, and purity.