Top five creative gift wrapping ideas
By Catalogs Editorial Staff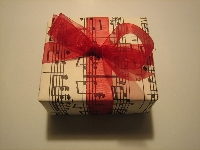 Top five gift wrapping ideas to surprise and delight the ones you love
The thrill of finding or making the perfect gift for someone you love is enough to make you feel like a giddy child. Yet, somewhere between figuring out what to give and all of the holiday parties, baking and traditions in between, wrapping becomes another task waiting in the wings. These
gift wrapping ideas
offer a fresh take on creative gift wrapping – in a way that store bought paper and curling ribbon may not.
Gift wrapping is the first thing your loved ones see. Whether gifts are presented under a tree or given directly by hand, you want your friend?s eyes to light up twice: when she sees the presentation, which can include ribbons of special themed food gifts like cookies, stuffed animals and other embellishments, and when she removes the wrapping. In short, you want to hear both the 'Ooh' and the 'Aah'.
These gift wrapping ideas will help you earn the former.
Before you continue reading about the Top five creative gift wrapping ideas there is a special announcement we would like to share with you. Catalogs.com has negotiated special medicare rates for our vibrant community of seniors. If you are over the age of 60, you can head over to our Seniors Health Section which is full of information about medicare. All you need is your zip code and a few minutes of your time to potentially save 100s of dollars on your medicare bills.
Five Gift Wrapping Ideas
Recycle with Flair
Store bought wrapping paper has a short life. You buy it; wrap gifts with it and a few days later it ends up crumpled in a trash bag or burning in a fireplace (which releases the toxic chemicals in most wrapping paper). Why not sit out this dance and try recycling used paper or fabric that you already have? For instance, you can recycle used aluminum foil to wrap small boxes. Tie it with yarn or twine and you?ll have a shiny, eco-friendly package that serves the same purpose with no additional waste.
Foil isn?t everybody?s thing. No problem, any scrap fabrics or old clothing can be used for creative gift wrapping. Tull and lace are incredibly elegant wrapping around a gift of clothing or handmade knitwear. An old patterned dress can have a short second life. Simply cut open the body of the dress and fold it around the gift as you would paper. Instead of tape, secure it with ribbon and a live flower in the bow.
~
Collage Art
Unbleached, brown paper wrapping gives gifts a classic rustic look. Secure it with a strip of fabric tied in a bow for a soft finish or stamp your personal style on this traditional wrapping. Cut out images and phrases from newspapers and magazines and make a collage. You can choose a theme inspired by the recipient?s tastes, like fashion or food, or go the humor route and include images that will make him smile.
When shown out of context, vampy facial expressions from perfume and high-fashion ads really say ?you are about to open the hottest gift in the universe?. For text from an ad or article, use the ?enlarge? function on a copier machine and wrap your present in oversized print. Use a bright red bow to secure white paper with black text for a stunning color contrast.

Two Gifts in One
Gift wrapping that doubles as a functional item the recipient can use produces zero waste and packs an extra clever punch. If you?re giving wine, you can roll the bottle in cloth napkins for a picnic or a dish towel. Lay the wine bottle across the width of the towel leaving about two inches at the bottom. Fold the bottle over the bottle and roll the bottle into the towel. Secure the top with a ribbon.
Gift wrapping ideas abound for gift baskets. If you?re planning to give exotic spices and oils to the chef in your life, use a mixing bowl as your ?packaging? and top with an over-sized bow. For a gardener, arrange tools, gloves and seeds into a watering can. Food gift baskets last longer in reusable holiday tins. And don?t forget the knitters! Knitters love a good small tote bag to hold their current work-in-progress.
Re-usable
Re-usable gift bags are practical and fun. You?ll find a wide variety of designs at discount store so you can easily find a bag that suits your recipient?s taste. If you?re feeling crafty, consider sewing patches of fabric to create your own gift bag. Sew a fold around the top and use ribbon as the draw string to seal your handmade gift bag.
Embellish Canning Jar
If you?ve decided to give the gift of your delicious preserves, consider embellishing your canning jars. Gift wrapping ideas for canning jars include functional cloth items like a hand towel and cloth napkin. You can also embellish the lid with cut fabric and print or write the recipe on a long wide piece of paper for the bow. If you?re not a canner, this idea also works for dry mix gifts like ingredients for a soup or beer bread mix.
 
Sweet Tag ? Bonus Round!
Gift wrapping ideas don?t end at the packaging. Gift tags have a simple but important job of preventing you from giving a gift to the wrong person. But once they serve their purpose, there?s not a lot of use for them. That is, unless your 'gift tags' are also cookies generously adorned with tasty icing and colorful sprinkles. Is there a happier ending to a thoughtful gift? If the recipient avoids sweets, you can recycle images from old greeting cards.
A beautiful, fun or creatively wrapped gift makes a loved one?s day even before they open your gift. Enjoy!
References:
Country Living: Gift Wrapping
Tip Junkie: Ideas for Creative Gift Wrapping
Home Canning
Popular Savings Offers