Unique engagement gift ideas
By Catalogs Editorial Staff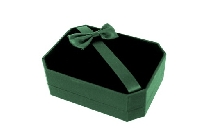 Give gifts that no one else has thought about!
Getting engaged is possibly one of the most romantic things that a couple can experience. It is a joyous time of celebration and anticipation. Anyone who is a part of the couple's special time will also be as excited as the couple. They will also want to show their happiness for them with unique
engagement gift
ideas that celebrate their union together. Gift ideas that are truly unique will celebrate the couple's individuality and personalities as a whole. Nice items like
jewelry
, photo frames or anything romantic and personal are ideal.
~
Periods of engagement range anywhere from a few weeks to a few years. Couples decide on their engagement time period usually well in advance. This will give you ample time to find unique gifts and even surprise them with extra special gift ideas that they wouldn't expect. If the engagement is only for a few weeks, then act quickly but selectively on finding the right gift for them. Don't rush to get anything just because the time is limited, but you may have to get something smaller or less personal. However, if you do have the benefit of ample shopping time, take that time to find the perfect gift that the couple will certainly enjoy.
Before you continue reading about the Unique engagement gift ideas there is a special announcement we would like to share with you. Catalogs.com has negotiated special medicare rates for our vibrant community of seniors. If you are over the age of 60, you can head over to our Seniors Health Section which is full of information about medicare. All you need is your zip code and a few minutes of your time to potentially save 100s of dollars on your medicare bills.
Where to Shop
Places to find
unique and different engagement gifts
is half the fun! You can be as creative or as traditional as you'd like. If the engagement is early enough before the big day is to occur, you should have enough time to shop around and find the perfect gift. Online shopping is by far the easiest and most preferred method of shopping so you can avoid long lines and 'busy' salespeople. You can also take your time and ask questions online about the products you're purchasing and see if they're available for personalizing and/or monogramming.
Other places to look for engagement gifts would include wedding specialty stores that are either online or brick-and-mortar stores. These specialty shops will carry items that are specifically for engaged or married couples. You are likely to find the perfect gift for the couple in specialty stores. Again, be creative in this area and even experiment with several types of gift ideas to give to the lucky couple.
Unique Gift Ideas
There are many unique engagement gift ideas that you can give to the lucky couple to commemorate their special occasion and make their upcoming event even more delightful. The main idea is to be as creative as you can be while keeping in mind the romanticism of the couple's event, what they like and don't like and something that they will undoubtedly value and have for a long time. Here are a few ideas for unique engagement gift ideas for lucky couples:
Digital Imaging
Anything that can have a photo printed onto it would be ideal for a
personalized photo gift
. Things like coffee mugs, computer moue pads, coasters, t-shirts or hats make nice gifts for transferring photos. Have these items personalized that show the couple together in a fun, loving way. Or, depending on which type of item you have personalized, you can have a romantic photo digitally imaged onto clothing like t-shirts, wine goblets or photo frames.
Romantic Gift Basket
The romantic gift basket is really a traditional gift. It usually contains scented soaps, candles and body oils and is a pretty standard gift at most parties. But the twist to make this traditional gift unique is to include things that are
non-traditional
and make the gift basket a total surprise. Some items that can make the basket romantic are things that the couple like individually and things that they like together. Ideas can include:
The couple's favorite movie in a Blu-ray version. Make sure they have a Blu-ray disk player first. If they don't own one, throw in a rental certificate from their local video rental store.
A gift certificate to their favorite restaurant. Be generous with the amount to include alcohol and desert purchases.
A fondue gift set. This is a very romantic, couple-friendly gift.
Luxury Car Rental
Driving around in a luxury, high-end car can be very romantic
and
fun! You can either rent the car for the lucky couple for one or two days for them to use the week before their wedding or the weekend after their special day. Let them choose. Anytime can be fun for them and make them feel really special.
Boat Tour
A romantic boat tour is very special and a nice gift to give to an engaged couple. There are numerous weekend romantic boat tours that you can find to give. Or, you can actually rent a private boat for them and let them enjoy themselves for a weekend of fishing, water skiing, sun bathing and relaxing.
Dancing Lessons
This is a gift that can come in handy for the engaged couple. What kind of music do they like? What kind of music are they going to play at the wedding reception? This kind of gift is exceptionally unique because most couples don't think about lessons together, although they may take dancing lessons separately. The standard ballroom dancing is what most couples would take together, but be creative and find dancing class lessons that will teach hip-hop, Crunk dancing, belly dancing, salsa dancing, etc. This can be
so much fun
for them and definitely something new for them to try together.
Spa Day
Here's a twist on an engagement gift that most people won't consider. The spa day gift to their favorite spa is pretty standard. But, give them a spa day gift for them to enjoy
at home
! Arrange services with an upscale spa and have them go to the couple's home for a day of massaging, pampering, pedicures, manicures, facials and an all-natural lunch. All of this and they never have to leave home!
Engagement Party
Take the standard engagement party and be creative by having a themed party. Invite people that the couple know individually and those that they know as a couple. Certainly have the person there who introduced them. Include any childhood friends, college friends, sorority and/or fraternity friends and neighbors. Create a kind of
"this is your life"
engagement party where they will be surprised at who's there. But, be sure to do your homework first and make sure the people who are there are supposed to be there. You certainly don't want any scorned ex-boyfriends or jealous ex-girlfriends showing up!
Wine Firsts
This is a really unique gift idea and one that most people will not think of. Create a wine gift that is all for the "firsts" in the couples lives. Give them a first bottle of wine for:
their first home
their first wedding anniversary
their first baby
their first car
their first fight (the making up part!)
This certainly can create memories and the couple will appreciate the thought behind it. Select wines that are appropriate for the occasion and perhaps write a note to accompany each bottle. You can also include a nice
wine rack
to go with the wines, making the gift even nicer. Go in together with friends to make the gift even more special and let everyone write their own personal or special notes.
Unique engagement gift ideas are only what you want them to be. They can be as personal, or as romantic as you would like, keeping in mind that the special couple will appreciate the thought behind what you've given. The gifts can be silly, expensive, long-lasting or timeless. Engagements are
Popular Savings Offers