Unusual and unique engagement rings
By Catalogs Editorial Staff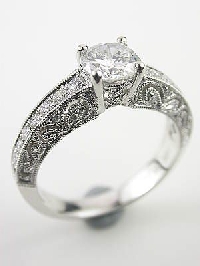 Unusual and unique engagement rings are very popular for one-of-kind brides
The traditional and conventional
engagement ring
features a nice, big (or not-so-big) diamond on a band of either yellow-gold or white-gold. However, many are eschewing tradition and choosing unusual and unique engagement rings not remotely resembling anything close to what their mother received when their dad proposed years ago. Some couples even design the jewelry themselves, creating something one-of-a-kind.
Diamonds are — hands down — the most popular choice, but some couples are choosing unconventional stones such as aquamarine, mystic topaz and tanzanite, surrounded by smaller diamonds. The results are outstanding.
Vintage
Before you continue reading about the Unusual and unique engagement rings there is a special announcement we would like to share with you. Catalogs.com has negotiated special medicare rates for our vibrant community of seniors. If you are over the age of 60, you can head over to our Seniors Health Section which is full of information about medicare. All you need is your zip code and a few minutes of your time to potentially save 100s of dollars on your medicare bills.
Sometimes a bride-to-be inherits a vintage ring from her grandmother. Any item that is older than 50 years is considered antique or vintage. However, some women do not inherit from their predecessors.
If the bride still wants a vintage piece of jewelry she can find one designed to look old and representative of times past. She can also go to estate sales or consignment shops or jewelry shows.
~

What to Look for
In the Victorian Era (1935-1900), engagement rings were set in rose gold or yellow gold and often featured several rows of diamonds, cut with an additional facet on the bottom, which is referred to as the "mine cut." Pearl rings were very popular in the Victorian Era.
Between the years 1900 and 1920 (the Edwardian Era), platinum became the metal of choice. Scrollwork and filigree details were incorporated into the metal. Sapphires were the rage as were rose-cut diamonds.
Between the years of 1920 and 1930 was the Art Deco Era. The jewelry from this time very clearly reflects the tenor of the nation in the 1920s. The jewelry is geometric and streamlined, with references to Native American culture, Asia and Egypt. The stones are bold, colorful and contrasting gemstones were frequently employed.
Celtic
Over the years, the Celtic design has come into favor. This style features an elaborate design of knots that doesn't end. The knots represent two individuals united in eternal love.
Mokume Gane
The Japanese style called Mokume Gane is gaining in popularity. Different metal alloys are used with or without gemstones. The bands are decidedly patterned.
Colored Diamonds
If determined to get a diamond but still dead set on something unusual, consider purchasing a colored diamond. Diamonds on the lower end of the price spectrum are brownish or yellow and you may like this look. Others are pink, green, blue, yellow and even red.
Filigree
Another option is filigree. Filigree means ornate yet elegant designs placed on the metal work. The band needs to be relatively thick to accommodate sophisticated filigrees. Sometimes this style doe not include a gemstone at all.
There are several kinds of filigrees including the simple version, where the designed is put in a specific area and serves as an accent. Usually the design surrounds the center stone. In a simple filigree design the patterns are not multifaceted.
The complex filigree design includes several incorporated patterns and intricate metalwork surrounding the gemstone or stones. The design completely encircles the band or at least dominates it.
The multiple filigree style incorporate various filigree patterns in different places ont he band, including in the arch. Some of the patterns circle the center stone.
The multi-tone filigree utilizes contrasting metals which makes the designs more prominent.
Combination
Combine gemstones with diamonds for an original look. A ruby in the center surrounded by smaller diamonds is one way to go or select an emerald or sapphire. Some choose akoya cultured pearls, which are expensive.
More than 30 years ago, Prince Charles gave Diana Spencer an 18-carat sapphire surrounded by 14 smaller white diamonds, situated on a platinum band when he proposed. Their son William gave the same ring to his intended, Kate Middleton, when he proposed. Not every engagement ring boasts a big diamond as the centerpiece.
Popular Savings Offers