Go to college with unusual scholarships
By Catalogs Editorial Staff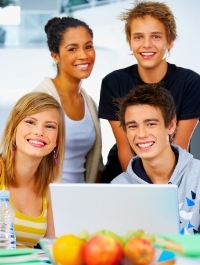 Find unique ways to afford college.
There's the old joke about the girl who is so dim that she can only make it to college on an underwater basket-weaving scholarship; or about the guy who plans to send scholarship applications to all the major breweries. Funding for college, however, becomes less of a laughing matter with every passing year. Parents, prospective students and colleges themselves all work hard to make college affordable by combining savings, summer-job earnings, work-study programs, grants, loans and scholarship funds to pay for the rising costs of a college education.
The 'Stuck at the Prom' Scholarship
Before you continue reading about the Go to college with unusual scholarships there is a special announcement we would like to share with you. Catalogs.com has negotiated special medicare rates for our vibrant community of seniors. If you are over the age of 60, you can head over to our Seniors Health Section which is full of information about medicare. All you need is your zip code and a few minutes of your time to potentially save 100s of dollars on your medicare bills.
One possible source of funding that is often ignored are 'unusual college scholarships'. Many students already know about the duct tape grant:  both members of a couple willing to make their prom outfits out of duct tape are eligible to compete in "Stuck at the Prom," a contest sponsored by Duck Brand tape. The company awards $2,500 each to the lucky couple. Creativity counts in some truly spectacular ways. The outfits are amazing, and the site quacks every time you turn a page in the winners' album. All that and college money ? wow!
Find More Amusing Scholarships
In articles about college funding, CNN Money not only points out some of the more amusing scholarships, but also reminds students that  the College Board and other organizations maintain free services to explore unusual scholarships online. It also reminds students not to be shy with their college counselors who also have access to directories of unusual funding.
Help for Bad Dorm Food
Unusual scholarships tell you interesting things about the college experiences of the people who established them. While not strictly scholarship funding, for many years one women's college administered a bequest that assured bread, butter, and cottage cheese on all dormitory dining tables at both lunch and dinner. The funds had been left by a woman who loved the college ? and hated the food! She wanted to be sure that there was always something to eat for those who shared her doubts about the kitchen.
A Scholarship for Left-handed Students
A scholarship for a left-handed student at Juniata College in Pennsylvania was established by a left-handed husband in memory of his left-handed wife. Pairing up to play college tennis was only the beginning of a happy life together.
~
Take an Inventory of Yourself
How do you search for an unusual scholarship? By taking inventory of a number of abilities and qualities that may or may not relate to grade point averages:
Sex ? some scholarships are restricted to women, some to men.
Nationality or national origin ? scholarships fund education for students of Hispanic, black, Scandinavian, Middle European and other heritages.
Career goals ? students entering college knowing they want careers in the sciences, aerospace, mathematics, farming, interior design, journalism, pediatrics and many other careers, will find professional organization-sponsored funds.
Hobbies ? yes, there's a scholarship for duck calling. It's only one of many non-academic pursuits recognized as scholarship-worthy. Sports come to mind immediately, but sewing, singing, dancing and the arts all serve as sources for scholarship money.
Are you a legacy? Legacy is the term colleges use for new students who have a relative who attended the same college. What amounts to scholarship funds may well reduce costs if your grandmother or dad attended the same school.
What's your name? At some colleges, former students have provided funds for new students of the same name. Do you have to be related? Not always ? ask.

Do Something Unique
Look at other things you like to do. Write for the school paper, read about and raise animals, collect toys from the 1950s, learn about arts and crafts in other cultures. Everything you do adds to the unique person you already are, which means possible financial support. With so many organizations providing free linking services, getting the information shouldn't cost you a thing.
So think about who you already are and who you want to become. There's help out there for your efforts. 
Popular Savings Offers