Use chains on your car
By Catalogs Editorial Staff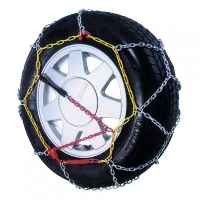 The use of chains during incliment weather is necessary to stay safe.
Those who have had to use chains on their car are undoubtedly very familiar with the agony of painful fingers experienced when installing chains in a blizzard. Many other drivers only deal with chains during occasional ski trips. And still others wouldn't know what to do with a set of chains if their life depended on it. For the later, learning how to properly install chains does not seem to be of utmost importance. You might ask, "Why worry about installing chains when I've never even seen snow?" One possible answer might be that for those who enjoy traveling to different places, learning the basics regarding cable chains might prove to be worth their while. What seasoned traveler hasn't dreamed of visiting Colorado during ski season, or Yellowstone National Park just as the other tourists head home? And Upstate New York is gorgeous when the hills are covered with beautiful snow. Fortunately once you've been instructed on how to use and install a set of chains most people find that it is relatively simple to do. You can soon be on your way to some of the loveliest places in the country?or, if you already live in an area that experiences large amounts of snow, you can just be safely on your way to work!
In the past, ladder-style steel chains used to be the one and only option. Steel chains were problematic for several reasons. For starters, just imagine installing or uninstalling steal chains in sub-zero weather. Also, they require more effort to clean and store. Thankfully, these days tire chains are made of different materials and have varying cross-chain/cross-member patterns. The two primary materials used for winter traction devices are steel links and steel aircraft cable surrounded by steel rollers. Cable chains represent the latest evolution in winter traction devices. Lower-profile than link chains, cables fit more applications and offer a smoother ride. Because they're lighter than links, cables are often easier to install, remove and store. Some even come packaged with rubber tighteners that eliminate having to stop and retighten the chains. 
Cable chains represent the latest evolution in winter traction devices. Like link chains, cables are available in different patterns. Radial cables are similar to standard link chains in their ladder-style pattern, which runs perpendicularly across the tread. The advantages of radial cables are affordability and clearance. You may need to experiment with several different types of chain on your car before you find a style that you prefer.
~
Because there are numerous styles and varieties of chains, installation instructions vary, so always refer to the instructions for your particular style of chains. And while each manufacturer's installation process may vary, there are several safety precautions that should be taken whenever you install tire chains on your car. Make sure your car is on a level surface. Never have young children near the area where you are working. The most important rule, of course, is to always make sure the car is not running when you are performing the installation!
After learning the basics of installing your chains on your car, it is also necessary that you store them properly. Most chains come with detailed instructions as to how to clean and maintain them after use.  As with any device, always remember that proper maintenance and storage is essential if you hope to get the most out of your investment.
Popular Savings Offers
Before you continue reading about the Use chains on your car there is a special announcement we would like to share with you. Catalogs.com has negotiated special medicare rates for our vibrant community of seniors. If you are over the age of 60, you can head over to our Seniors Health Section which is full of information about medicare. All you need is your zip code and a few minutes of your time to potentially save 100s of dollars on your medicare bills.