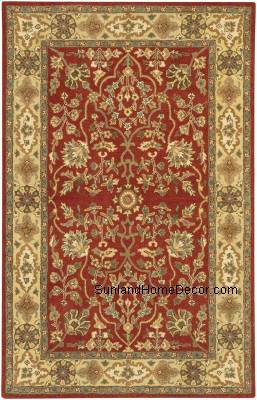 Learn how to use throw rugs on carpet for texture, color, design and warmth
You recently carpeted the downstairs of your home. There is now a large expanse of beige carpeting. It looks new, pretty and clean but upon further inspection it looks rather bland. How can you add more visual interest?  A great decorating solution is to use throw rugs on carpet for texture.
Throw rugs serve multiple purposes including making the home interior look pretty and more inviting. If you have kids, pets and a high level of foot traffic in your abode, these removable and small pieces can be walked on time and time again and survive. Mud can be tramped on them, dirt ground in, dogs can shed and all these problems are quickly and easily resolved by tossing the piece into the washing machine, which you can't do with wood floors or wall-to-wall floor coverings.
Incorporating small floor coverings into the home helps absorb sound, protects hardwood floors and carpet and cushions feet. It is also a great way to disguise a damaged floor or floor covering.
An area rug is usually considered a throw or scatter rug when it is small. The small rug is typically two feet by three feet. This type floor piece is often found in the bathroom, by a bed, near the kitchen counter-sink area or near entrances/exits to a home.
~
This piece can be made of natural or synthetic materials, including cotton. Some like to make them out of mismatched scraps of material, creating a rag rug, which has a rough texture because of the variety of materials used in its creation.
Small floor coverings can be made of recycled material including polyester and nylon and even leather. Leather creates a soft, densely textured surface. Pieces made from fabric scraps create a textured and shaggy covering. Wool can be recycled from old blankets and clothing and twisted and braided together, creating a woven floor covering.
Adding scatter rugs gives a residence a sense of warmth and comfort. If family members spend a lot of time romping on the floor, place one in the specific area where they play. The placement of a floor covering makes sitting on the floor (and romping) much more comfortable.
You can break up visual color monotony by incorporating small patches of color, texture, design and pattern afforded by the small floor coverings. If there is a definite look or feel you want to express in a particularly room, this type rug can certainly help you achieve this goal.
Are you a hippie chick at heart? A woven piece created out of faded colors and fabrics imparts your style. Would you like to incorporate a southwestern ambience to a room? Easy to do when using pieces featuring woven Native American designs and colors. Different surfaces and different colors jazz up a room or, conversely, calm it down, depending on the pattern and design.
There is a lot to choose from including contemporary styles that burst with color, design and consistency and which are ideal for a modern home. If traditional is your ilk, select from floral or braided that can be round, oval or rectangular in shape, accommodating whatever your need and space may be.
Not only do these small floor coverings add design, color and texture to a room but when walking on the various materials in your stocking feet the surface material underfoot is very noticeable. You will know which one you are stepping on even if blindfolded.