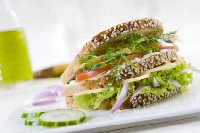 Making a vegetarian sandwich isn't always easy. Here are a few recipes to help you make a great sandwich without the usual staples of ham, roast beef or turkey.
CLASSIC DELI SANDWICH
2 slices of bread (choose the kind you prefer)
Mayonnaise (optional for vegan diets)
1 lettuce leaf
4-5 cucumber slices
3 tomato slices
4 red onion rings
4 avocado slices
2 slices cheese (optional for vegan diets)
® hard boiled egg (optional for vegan diets)
Sprouts
Toast the bread and pile on the ingredients. When it comes to vegetarian sandwich ideas this one is as easy as it comes.
GRILLED EGGPLANT AND SWEET PEPPER SANDWICHES
2 medium green, red or yellow peppers
1 medium eggplant cut into 12 slices
1 Tbsp. olive oil
8 ® thick slices French bread
4 ounces soft goat cheese
ª cup Dijon mustard
Quarter the sweet peppers lengthwise. Remove all seeds and membranes.
Brush eggplant slices with olive oil and grill with sweet peppers on the rack of an uncovered grill for four minutes. Turn and grill for three to five more minutes or until the eggplant is tender and sweet peppers are slightly charred. Remove vegetables from grill and set aside.
Spread both slices of French bread with goat cheese and mustard. Layer three eggplant slices and two peppers on four of the bread slices. Top with remaining bread slices. Serve warm.~
SPICY VEGETARIAN SANDWICH
8 slices whole grain bread
6 ounces softened cream cheese
1 Tbsp. horseradish
1 English cucumber
4 oz. Monterrey pepper jack cheese, thinly slices
Alfalfa sprouts
Sliced tomato
Mash together softened cream cheese and horseradish. Set aside. Do not peel the cucumber, but slice it very thin.
Spread one side of all eight slices of bread with the cream cheese/horseradish mixture. Top four of the slices with cucumbers, ® of the Monterrey pepper jack cheese, tomato slices and alfalfa sprouts. Top with remaining four slices of bread and enjoy!
VEGETARIAN SLOPPY JOES
This all-time favorite is now available without meat and is one of the most delicious vegetarian sandwich ideas.
1 ª cups dry pinto beans
4 cups cold water
6 cups water
1 cup regular brown rice
1 Tbsp. olive oil
1 cup chopped onion (1 large onion)
® cup chopped green sweet peppers
ª cup finely shredded carrot
1 cup bottled barbecue sauce
ª cup water
2 Tbsp. toasted wheat germ
ª tsp ground cinnamon
Sea salt or salt and pepper
6-8 whole wheat hamburger buns or Kaiser rolls split and toasted
In a medium saucepan, cover pinto beans with 4 cups cold water. Bring to a boil and reduce heat. Simmer for two minutes. Remove from heat. Cover and let stand for one hour.
Drain and rinse beans. In the same pot, combine the beans and four of the six cups of water. Bring the beans to a boil and reduce heat. Cover and simmer for 1 to 1 ª hours or until beans are tender, stirring occasionally. Drain.
In a medium saucepan, bring the remaining 2 cups of water to a boil. Add regular brown rice, return to a boil and reduce heat. Cover and simmer for 40-45 minutes or until the rice is tender and the water is absorbed. Let stand, covered for 5 minutes.
In a very large skillet, heat olive oil over medium-high heat. Add onion, green pepper and carrot. Cook and stir until vegetables are tender but not brown. Stir in cooked pinto beans, cooked rice, barbecue sauce, wheat germ, cinnamon, salt and pepper. Bring mixture to a boil and reduce heat. Cover and simmer for 10 minutes stirring frequently.
Spoon mixture onto buns and enjoy!