Vegetarian Thanksgiving recipes
By Catalogs Editorial Staff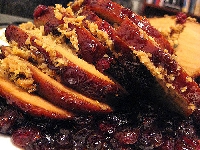 Vegetarian Thanksgiving recipes for a feast the everyone will enjoy
Turkey drizzled with gravy beside a scoop of stuffing is the first indicator that the traditional Thanksgiving menu was not created by a vegetarian. But, this doesn?t mean that vegetarians can?t leave the Thanksgiving table feeling the strange remorseful satisfaction everyone else feels before slipping into their after-dinner doze. These
vegetarian Thanksgiving recipes
will have you wishing the holiday was a monthly occasion.
Whether you?re cooking a full vegetarian Thanksgiving dinner or planning to incorporate a few dishes into the menu, there?s a huge variety of vegetarian Thanksgiving recipes to choose from.
Some of the tastiest vegetables are harvested in the fall; choose your favorites to build your dishes around. As for protein, Tofurky, TVP, beans or a lentil loaf are fun to make and delicious to feast on (two vegetarian thumbs up!).
Before you continue reading about the Vegetarian Thanksgiving recipes there is a special announcement we would like to share with you. Catalogs.com has negotiated special medicare rates for our vibrant community of seniors. If you are over the age of 60, you can head over to our Seniors Health Section which is full of information about medicare. All you need is your zip code and a few minutes of your time to potentially save 100s of dollars on your medicare bills.
~
Vegetarian Thanksgiving Recipes

Recipes for Vegetarian Thanksgiving Entr?e – Vegetarian Lentil Loaf
Even meat eaters like this dish. Lentil loaf is high in protein and was basically invented to go with cranberry sauce and mashed potatoes with mushroom or cashew gravy. The vegetarian recipe includes many stuffing ingredients so the dish shares the familiar aromas of a traditional Thanksgiving stuffed turkey.
Lentil loafs can be prepared the night prior and stored in the fridge, a wonderful thing when you want to spend the day with your family rather than in the kitchen.
Ingredients:
1 ® cup lentils (brown)
*® cup bulgar
3 cups vegetable stock
4 cloves diced garlic
1 Tbsp grated ginger
ª cup grated carrot
1 diced celery stalk
ª cup diced red bell pepper
ª cup diced zucchini or butternut squash
2 Tbsp chopped cilantro
1 tsp parika
1 tsp sage
2 Tbsp tomato paste
1 tsp soy sauce
1 cup homemade bread crumbs
Salt a pepper to taste
Directions
1. Boil the lentils and soak for about an hour or until tender. Then, boil the lentils and bulgar in vegetable stock and simmer for 20 minutes or until the liquid is absorbed.
2. Saute the vegetables, seasoning and garlic in olive oil. Add the lentils and bulgar, tomato paste, soy sauce and breadcrumbs. Cook all of the ingredients for 5 minutes or until thick.
3. Press ingredients into a glass or ceramic baking pan (coat the pan with oil so the loaf doesn?t stick). Bake at 350 degrees for 40-50 minutes, uncovered.
4. Serve with cashew gravy.
*You can substitute bulgar for brown rice if you prefer, just make sure there is enough liquid to fully cook the brown rice. Add more vegetable stock or water as needed.
Recipe for Vegetarian Thanksgiving Side Dish – Veggie Stuffed Sweet Potato
In addition to creamed spinach, corn, biscuits and peas with baby onions, here's an outstanding, nutritious vegetarian side dish:
Ingredients (for 4 people):
2 sweet potatoes (1 for every two Thanksgiving dinner guests)
2 teaspoons of butter or olive oil
ª cup chopped onions
2 tsp chopped candied ginger (optional)
1/2 cup chopped broccoli
® cup chopped cauliflower
1 tsp paprika
Salt and pepper to taste
Directions
1. Clean the sweet potatoes thoroughly. Bake for 20 minutes at 450 degrees.
2. Remove sweet potatoes from oven and cool. Cut them in half lengthwise and scoop out all but about ª of the potato along the skin.
3. In a bowl, add the insides of the potatoes, with the butter, ginger, vegetables and seasoning. Stir.
4. Spoon the mixture into the hollowed potato halves. Bake for another 20 minutes or until the potato and vegetables are roasted. Serve hot.
More favorite vegetarian Thanksgiving recipes:
Double Cranberry Chutney ? Vegetarian Times
Pumpkin Stuffed with Vegetable Stew ? Epicurious
Wine-Glazed Brussel Sprouts ? Veg Kitchen
Firecracker Cornbread ? 101 Cookbooks
Wild Rice and Pecan Stuffed Onions with Cranberry-Orange Glaze ? The New York Times
You may want to consider making extra! Have a wonderful Thanksgiving.
References:
NPR: A vegetarian Thanksgiving
ChowHound: Top Ten Vegetarian Thanksgiving Dishes
Jasonlam: Photo credit
Popular Savings Offers