Decor ideas for veterinary offices
By Catalogs Editorial Staff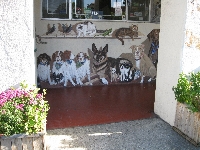 Cats outta the bag! Creative tips for decorating a veterinary office
Managing or working for a veterinary practice is a noble profession for those with the medical training, skills and passion to care for animals. In recent years, the demand for
qualified veterinarians
has increased steadily, and new
veterinary practices
, offices and clinics have sprung up in towns communities and cities around the world.
Designing and decorating a veterinary office can be a challenging, but fun task. Certainly, durable, and sanitary furnishings are crucial for any medical or veterinary establishment, however many options for alternative and creative embellishments to the standard stark white walls and linoleum flooring have gained popularity in veterinary office decor themes.
Any architects, interior designers, or veterinarians and staff charged with designing or managing the operations of a veterinarian establishment should take the time to peruse these new, inspiring ideas, techniques and products for veterinary office decor.
Before you continue reading about the Decor ideas for veterinary offices there is a special announcement we would like to share with you. Catalogs.com has negotiated special medicare rates for our vibrant community of seniors. If you are over the age of 60, you can head over to our Seniors Health Section which is full of information about medicare. All you need is your zip code and a few minutes of your time to potentially save 100s of dollars on your medicare bills.
1)   The Floor Can Be More
Certainly, durable, easy-clean, commercial grade flooring is a must for any veterinary office.  Whether foot traffic is two-legged or four legged, there are plenty of creative ways to make your flooring more colorful, creative and stylish. For example, floor decals and graphics are a great way to direct traffic, enhance themed decor.  
Unique decals will get the attention of your customers and promote your business name. To blend with veterinary office decor, consider decals shaped like paw prints ? cat foot prints, dog prints, bird foot prints etc. These unique designs are are sure to bring smiles to your customers.  For added safety, consider decals that are slip resistant. 
~
2)   Totally Off-The Wall
Veterinary office decor should be inviting and calming. This will help to ease the anxieties of clients who are concerned about the health of their beloved family pets. When painting a vet's office, select colors that are calming such as pale blue, lilac, soft green or even neutral earth tones like gray or beige.  
Add stylish embellishments by selecting a border with images of animals, or choose animal themed posters, prints, and photographs to enhance your walls. If large scale artwork appeals to you, consider hiring an artist to paint wall murals of animals and pets. Special touches such as these will help to build the reputation of your veterinary practice.

3)   Display Pet Photos and Patient Correspondence
What better way to help celebrate relationships with clients, and build relationships with potential new patients, than to display the photos, cards, letter or other correspondences from patients.  Encourage your clients to send photographs or letter about their beloved pets. Post these photographs, with colored construction paper, or other decorative items on a bulletin board. Take the time to create a creative, eye catching patient photo board. Display this bulletin board prominently in your waiting room area for patients to enjoy.
4)   Take a Breather
Often times, the air quality in a veterinary office can become a problem. With so many different pets passing through a facility each day, the odors and smells can become overwhelming … for office staff as well as patients. Foreign smells can also trigger anxiety and fear for pets.  Cleanliness and good ventilation are key to avoiding these issues. Air purifiers,window fans, ceiling fans, and fragrance and air fresheners can help everyone to breathe easier.  
5)   Other Small Touches
Ultimately, it's the little things that can make a big impression.
Select an animal themed lamp or lamp shade for your waiting room area, set out a bowl of complimentary dog and cat treats for your four-legged patients to enjoy, as well as a spigot or water cooler where clients may fill water bowls for pets. Search for a unique, animal themed welcome mat to place just outside the front door of your office. Hang a pet-themed mobile for children to enjoy. Keep some pet-themed magazines, books and other reading materials on hand for adults to enjoy, and pet-themed picture books or coloring books for children.  
Carry the theme through to the office, and behind the scene areas. For example, decorate staff workstations with animal themed calendars, or pet-themed computer mouse pads. Encourage staff to wear colorful, animal print scrubs, rather than traditional white medical scrubs.  
Popular Savings Offers