Ways of smoking tobacco
By Catalogs Editorial Staff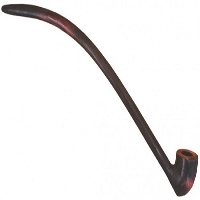 There are many ways of smoking tobacco for those who enjoy the flavor of a smoke
For centuries, stepping outside after a good meal and lighting up some sort of tobacco product has been the way people ended an evening. Sometimes, it's not about ending the evening so much as it is about simply unwinding and relaxing while sitting in your study and settling down with a good book. Other times, it can be something to do while you step outside and enjoy the last evening of nice weather before the fall and winter sets in and the chill reaches the very inner core of your bones. 
Whatever the reason you feel to light up, there are a number of different ways you can do it. Perhaps you want to find a different way to smoke tobacco than you have been doing in the past because you just want to try something new. Maybe you want to try some new ways of smoking tobacco because you think it will help you slow down your overall tobacco consumption and allow you to enjoy it more.
Whatever the driving force in making a change, we've happily brought you a number of different ways you can smoke up and enjoy yourself.
Before you continue reading about the Ways of smoking tobacco there is a special announcement we would like to share with you. Catalogs.com has negotiated special medicare rates for our vibrant community of seniors. If you are over the age of 60, you can head over to our Seniors Health Section which is full of information about medicare. All you need is your zip code and a few minutes of your time to potentially save 100s of dollars on your medicare bills.
Pipes
Pipes have long been another one of the most popular ways of smoking tobacco because they are durable, easy to transport and can reflect the owner's personality quite well. Some people will go with the traditional stubby pipe that has been associated with college professors for decades but that is hardly the only kind of pipe out there for those who want to give them a whirl. The size and shape of the pipe is really up to the person looking to use it.
There are even pipes that are emblazoned with someone's favorite college or professional sports team. Popularity of movies and books like Lord of the Rings has even led to more pipes being made that are long and look quite a bit less mass produced so people can feel as though they too, are as clever and wise as Gandalf.
Hookahs
Hookahs are a device that started in the Middle East but have slowly become more commonplace in the United States and other parts of the West.
These devices generally sport a bubble like base with a stem that narrows as it goes up. Usually made of glass, the Hookah sets itself apart because it is truly made to be a social way of smoking tobacco. The Hookah usually has a number of different ports on its body and long tubes that come out of the base. This allows more than one person to smoke from the Hookah at the same time.
~
Cigarettes
Cigarettes have long been one of the most popular ways of smoking tobacco simply because they are also the most mobile and most convenient. You simply just carry a pack in your pocket and when you light up you have everything you need right there. Some people like to roll their own cigarettes, because it allows them to pack as much or as little tobacco into the paper as possible.
Because there are so many people who like to roll their own, there are a number of different kinds of rolling papers you can buy. These papers are made of different materials and come in a number of different consistencies in order to make anyone happy.
Cigars
Cigars are another way to smoke tobacco in a similar fashion to the cigarette. The biggest difference between these two items is that the cigar will generally be a bit thicker and use stronger tobacco and darker paper.
Like the cigarette, most cigars come already wrapped and ready to smoke out of the package though some of the bigger aficionados prefer to roll their own. For the most part, who rolls these is part of the status symbol of a cigar.
Most people who truly love cigars are always looking to get their hands on Cuban rolled varieties because of the quality of the rolling and the quality of the tobacco.
Popular Savings Offers