Ways to decorate a Christmas tree
By Catalogs Editorial Staff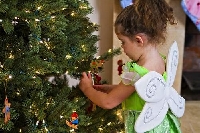 There are zillions of ways to decorate a Christmas tree for holiday celebrations
There are many ways to
decorate
a Christmas tree. The type of tree, whether real or artificial, and its size, height, color, sturdiness and shape have a bearing on which decorations may look and work best.
There are numerous trees used for the holiday, including the Deodara Cedar. It is a short tree boasting blue-ish green needles. The branches are loose hanging from the tips. Other popular trees include:
The Balsam Fir is a popular yuletide tree. It has flat needles rounded at the top. The needles are long-lasting. The color is dark green with a silvery throw. The tree has a delightful smell.
A southern holiday tree is the Eastern Red Cedar. It's sticky to the touch and dries out quickly. The leaves are shiny and dark green.
The Blue Spruce is a sturdy, symmetrical tree, tolerant of heavy decorations because of the stiff branches. The color ranges from powdery blue to dark green. It is a nicely shaped tree.
Many love the Douglas Fir because it smells so good, including the needles when crushed. The blue-dark green tree is conically shaped.
A popular Christmas tree, the Leland Cypress, projects a feathery look and has upright branches. It smells good and for those who are allergic to other kinds of yuletide trees this is the tree to pick. The foliage is dark green to gray in color.
The Noble Fir, another good choice, is silvery with blue-green needles. The branches are stiff and short and easily accommodate heavy ornaments.
The most common Christmas tree is the Scotch Pine. It's dark green, does not lose it's needles easily, is aromatic and open, which allows more room for ornaments.
There are just a few of the trees that serve well as a holiday tree, and that will be suitable backdrop for your cherished
Christmas ornaments
. Go on a tree shopping mission, deciding which one you like best and proceed from there.
Before you continue reading about the Ways to decorate a Christmas tree there is a special announcement we would like to share with you. Catalogs.com has negotiated special medicare rates for our vibrant community of seniors. If you are over the age of 60, you can head over to our Seniors Health Section which is full of information about medicare. All you need is your zip code and a few minutes of your time to potentially save 100s of dollars on your medicare bills.
~
Start with lights

When decorating the tree, put the lights on first, wrapping them around the tree, starting from the bottom and moving upward or vice versa. Should you use colored lights or white lights? It's your choice. Both look great. Combine the two if you can't decide.
How about big bulbs versus small? Big bulbs have come back into style. They are reminiscent of years gone by when this was the only type of bulb available. If you are nostalgic for the 1950sand 1960s go with big, colorful tree bulbs.
Hang ornaments
Your tree decorations may be random relics saved from the past or you may have a specific color scheme and style of ornament. Sometimes both approaches are incorporated, which makes for an interesting outcome.
Consider using Swarovski snowflake ornaments that are refractive crystals. This is going to provide glow, glitter and sparkle. You can also purchase strands of crystals, which are wrapped around the tree, making it look like a gleaming piece of jewelry. With candles lit, and the lights turned down low, this is a beautiful look and quite romantic.
Hang pictures from the tree. Each year, take a picture of your children or grandchildren, fame them, attach a hook or ribbon to the photo and display them on the tree.
If you like the look of white, purchase an artificial white tree and select richly colored ornaments that stand out boldly against the stark white background.
If bored with the traditional red and green color palette, choose jewel tones instead. such a rich burgundy, cobalt blue, luxuriant purple, russets and gold. When placed next to the dark green on the tree these colors are beatific. A blue and white color scheme is also gorgeous as is an all-white theme. 
Use strands of beads — white or colored. Hang them vertically or horizontally on the tree.
Do something different
Go for a Victorian look: Put lace garlands and ornaments on the tree. Use electric candles instead of the real McCoy as the Victorians did, which was unsafe. These candles are clipped to the tree branches.
String cranberry and popcorn garlands around the tree. Stick pine cones (natural or spray  painted) into the branches. Make bows out of velvet or satin and use an ornaments.
Consider a silk Christmas tree. This is a novel idea.
Let your imagination go wild when decorating your tree. There are no rules. There isn't a wrong or right way to do it. You can make it look however you and your family choose. Be creative!
Popular Savings Offers