New ways to wear leggings
By Catalogs Editorial Staff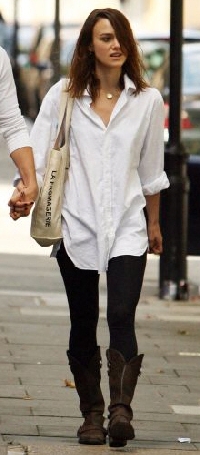 Leggings will make a comeback in fall fashions: here's the skinny!
Leggings, first described as ?tights without feet? became a hugely popular fashion trend during the 1980s. Recently, however, leggings have made a comeback.  In fact, the
2010 fall fashion line-up
features countless new styles and varieties of leggings. Undoubtedly, runway models will also be displaying original new ways to wear leggings.
Why have leggings re-emerged, particularly as a fall craze for pre-teens, tweens and teenage girls? The answer may be simple enough: leggings are comfortable, versatile, flattering and… timeless.  Eager to learn more about the 2010 fall fashions featuring new ways to wear leggings? Here's the skinny on new looks for leggings:
There are three particular varieties of leggings that will see increased popularity this fall. Capri length leggings, jeggings and body contouring leggings. Capri length leggings stop either mid calf, or just below the knee, as opposed to full length leggings which stretch to the ankles.
Before you continue reading about the New ways to wear leggings there is a special announcement we would like to share with you. Catalogs.com has negotiated special medicare rates for our vibrant community of seniors. If you are over the age of 60, you can head over to our Seniors Health Section which is full of information about medicare. All you need is your zip code and a few minutes of your time to potentially save 100s of dollars on your medicare bills.
?Jeggings? are a contemporary variety of leggings that combine elements of denim jeans and leggings. Typically, jeggings are made from stretchy denim-like materials and boast colors and styles associated with jeans, such as back pockets, and a colored seam down the side, and even front or back buttons. These denim-styled leggings have also been categorized as stretch-skinny jeans.
~
Body contouring leggings are another new type of leggings generally marketed to adults rather than tweens or teens. Body contouring leggings help direct eyes towards flattering parts of the body while minimizing the least flattering areas.  
This fall, the most popular colors for leggings include classic black leggings which are wonderfully versatile because they can be dressed up or dressed down so easily, as well as muted earth tone colors such as grays, browns, beige, greens and blues. Leggings with patterns, designs and textures such as lace, sequins, or cut-out designs are also making quite a come-back.  
What are the trendiest new ways to wear leggings?  Essentially, the trick is in layering clothing to create a flowing ensemble.  Combining different fabrics, knits and lengths of tops worn over leggings will help to keep your style edgy, fresh and comfortable.  If you plan to incorporate leggings in your fall wardrobe, aim to pair your leggings with over sized tops, tunics, and flowing cardigans.  Here is a list of tops, shirt styles, skirts and other garments that will best compliment the autumn legging trend.

Ten Best Garments and Accessories to Pair with Leggings This Fall:

1)   Long cardigans and wraps – Perfect for fall weather!  Hooded cardigans have been particularly popular.  Layer them over tank tops or loose fitting tee shirts.
2)   Sleeveless drape cardigans – This comfortable style of cardigan will enable you to stay cool and sleeveless on the warmer days of fall!
3)   ?Slub? tees, sweatshirts, and cardigans – Slub is a stretchy, striated fabric knitted with organic or unrefined cotton yarns.  Typically, slub shirts are slouchy and easy to wear.  They feature very soft fabrics with lovely flowing or draping qualities. 
4)   Baby doll tops and tunics – Baby-doll tops and tunics can truly dress up a pair of leggings.  Add a pair of fancy sandals, heels or even Mary Jane flats for a more formal attitude that is one of the fresh new looks for leggings.
5)   Empire-waistline or drop-waisted dresses – Perfect for more formal occasions or even as workplace attire.
6)   Any oversized tee-shirts –  Extra long tee shirts with draped necklines such as boat neck, v-neck, or scoop neck will best compliment leggings
7)   The Boyfriend Shirt – This style of oversized, lightweight, button down dress shirts has become a hugely popular trend in womens clothing. Why is it called a ?boyfriend shirt?? It gives the impression that you threw on something out of your boyfriend's closet! Although the length and width of the shirt may be oversized, the shoulders and sleeves are tapered for a flowing and feminine fit. Another more formal/professional variety on this theme is the boyfriend blazer.
8)   Mini skirts or micro-minis – Every girl should own a flattering mini skirt!  Mini skirts make a sexy fashion statement, and leggings will keep your legs warm and comfortable even during a chilly fall night on the town.
9)   Torn or ripped jeans – Re-invent your old, torn and ripped jeans as a garment to wear over colorful, stylish new leggings. Ripped jeans with leggings are making a comeback as a retro and alternative fashion statement.
10)   A collection of your favorite belts – Whether you are wearing a tunic, a boyfriend shirt, or simply an oversized tee, a fashionable belt can truly complete the look by enhancing your feminine curves and waistline.
Popular Savings Offers