Wedding fashion jewelry
By Catalogs Editorial Staff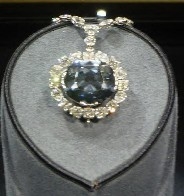 Diamonds are wedding favorites when fashion demands jewelry.
Close one eye. Put the other eye an inch from the surface of a fine diamond, perhaps one found in an engagement ring. Then study the sparklers in a modern wedding band or any precious diamond cocktail ring. Can you see into the earth's childhood?
Can you make out the shadowy images of dinosaurs lumbering through prehistoric jungles? Geology and the forces of gravity contribute to the creation of a diamond. It takes the eons and the relentless compression of layer upon layer of carbon-based materials to produce the coveted gem. It's a gem that lovers choose most often as their choice of wedding fashion diamond jewelry.
Before you continue reading about the Wedding fashion jewelry there is a special announcement we would like to share with you. Catalogs.com has negotiated special medicare rates for our vibrant community of seniors. If you are over the age of 60, you can head over to our Seniors Health Section which is full of information about medicare. All you need is your zip code and a few minutes of your time to potentially save 100s of dollars on your medicare bills.
Diamonds are works of art rendered by Mother Nature. The smallest of thin, rectangular accent diamonds?sometimes called baguettes?can lend fire to adjacent rubies, sapphires and opals in a silver, gold or platinum setting. Diamonds come in many colors: white, yellow, green, red and more. And any other stone always looks more luxurious surrounded by diamonds.
What contributes to a diamond's quality and price?
These precious stones are graded and priced according to weight in carats, cut, color and clarity. A flawless, well proportioned, absolutely colorless stone is the gold standard in diamonds. Popular shapes include the round, pear shaped, square cut and brilliant cut diamond. A diamond with several dozen facets generally has much more sparkle than a diamond with few reflective surfaces.
Bracelets, earrings, necklaces and other wedding fashion jewelry items are enhanced with diamonds. Close kin to the diamond are deep, rich sapphires, rubies and emeralds. These days, distinguished diamond jewelry is available in many more forms than the traditional diamond. Colored gems and colored diamonds alike are highly mesmerizing.
~
How big are some of the world's largest diamonds?
Buyers, professional diamond cutters and polishers, too, are wizards of their trade. Consider the world renowned Hope Diamond. It surfaced in 1905 and now is residing within the Smithsonian Institution. Its dark, grayish blue color is hypnotic. It is said to carry a curse, for legend avows it was stolen from an Indian temple. It weighs in at more than 45 carats?a beauty indeed.
The world's largest diamond is said to be the Cullinan Diamond, which weighed in at more than 3,100 carats in its original, rough form. It yielded more than 100 smaller stones. The Star of Africa at 530-plus carats and the Lesser Star of Africa at 317-plus carats are its offspring. They grace the British Crown Jewels. Check on the latest fashion trends before donning similar bling.
Isn't there a belief that diamonds have caused destruction?
Nevertheless, a shadow falls upon some diamonds. Many diamonds are extracted from the earth through the toil of human beings whose native homelands are rich in diamond fields. Illegal diamond sales and smuggling are reported to have funded rebels' guns and drug traffic. Too often, those who mine the stones?or innocent bystanders?are caught in the melee. Thankfully, numerous countries have supported conflict free resolutions.
Is there a way to ensure a diamond is conflict free?
International efforts to restructure the diamond industry are ongoing. Ethical pressures are alleviating the ills inherent in an industry where those at the top are very wealthy and those who work in the mines are very poor. World opinion is making a difference. Operating procedures are changing for mine owners and corporations thrust into the global spotlight. Security is tightened.
People who buy loose diamonds for investment purposes or who buy diamonds already set into lovely pieces of jewelry are better informed nowadays about human rights and political stability?or the lack thereof?in foreign countries.
Have conflict free diamonds taken a share of the market?
Today's purchasers of loose stones and wedding fashion jewelry tend to insist on dealing with companies that obtain their gems from conflict free sources. And companies that provide conflict free diamond jewelry are finding sales skyrocketing. Compassion is a commodity that well may bring increased cash to the top five diamond producing countries?and elsewhere.
? Australia
? Botswana
? Zaire
? South Africa
? Russia
The journey from primitive alluvial gravels, marine deposits and other rocky treasure troves where diamonds are born is a long one. Most diamonds?about 75 percent?are used as industrial diamonds. The rest may adorn the happy. Do you take this diamond as your lawfully purchased right? I do.
Popular Savings Offers