Wedding invitation wording etiquette
By Catalogs Editorial Staff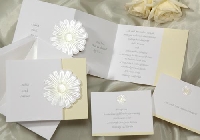 Follow wedding invitation wording etiquette for your invitations
There was a time when wedding invitations were easy write — all you needed was the names of the parents, names of the happy couple, location of the church, location of the reception and instructions for the RSVP.
Today, with so many parents divorced and remarried and with such a wide variety of non-traditional marriages, wedding invitation wording etiquette is much more challenging.
To avoid any relatives or friends being upset or offended, these examples show that common sense and few simple guidelines will help make the wedding invitation clear and readable.
Before you continue reading about the Wedding invitation wording etiquette there is a special announcement we would like to share with you. Catalogs.com has negotiated special medicare rates for our vibrant community of seniors. If you are over the age of 60, you can head over to our Seniors Health Section which is full of information about medicare. All you need is your zip code and a few minutes of your time to potentially save 100s of dollars on your medicare bills.
If the bride's parents are divorced but still hosting the wedding together, list the bride's mother's name first and the father on the next line with no "and" in between them. If one or both of the bride's divorced parents have remarried and are hosting, list the mother and her husband first and  the father and his wife second – again with no "and" between them. (In this case, you would list the bride's last name.) 
If the bride's parents are married but go by different last names, list the mother first followed by an "and" to indicate they're still married.
It's not traditional but acceptable today to list a deceased parent as "the late." If this is the second marriage for the bride, use her current married name. While this seems like a lot of information, many longer invitations will accommodate it.
When listing the places where the ceremony and the reception will take place, informal wording is acceptable. If the church or house of worship where the wedding will take place is not well known, it is acceptable to list the address. The same is true for the reception location. If the wedding and reception are at different places, use a separate reception card.
Although it was once common to invite some people just to the wedding ceremony, this is now considered tacky. Information for out-of-towners like hotels and parking can be placed on an enclosure card.
While it's not required, most brides use an RSVP to determine how about how many guests to expect. If you put the RSVP request on the invitation itself, it goes in the lower left-hand corner with a mailing address, phone number, email address or other acceptable means of responding. More common is the separate reception card and an RSVP response card with a self-addressed stamped envelope. Informal wording is acceptable as long as you clearly identify where to put the "number attending."
While some couples prefer not inviting children to the reception, writing "No children, please" on the reception card is considered rude. It is more courteous and acceptable to make a phone call instead.
~
If you're doing anything non-traditional at the wedding or reception, special instructions should be included on the reception card. An example is "and afterward for cocktails" if the reception does not include a meal. If the dress is something other than traditional wedding attire, use the lower right and corner of the reception card for simple instructions like "black tie" or "casual attire.? if the wedding is being held at a nudist resort, an information card with more details may be necessary!
When in doubt, use invitations you have received as guidelines for your own wording. Wedding planners and invitation printers are also helpful resources for proper wedding invitation etiquette.
Before giving the final okay, have someone else look over the invitation and reception card. Remember, they're part of your wedding mementos and no one wants to look at a misspelled name on their anniversary for the next fifty years!
Popular Savings Offers