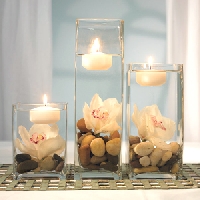 Try to find fresh ideas for your wedding table accessories
The wedding ceremony is over.  Now it's time for the reception.
You want your wedding reception to be as memorable as the ceremony.  That means delicious food, good music and beautiful decor, from the ceiling to the wedding table accessories. But how can you make your wedding different from all the rest, and still stay on budget? 
One of the least expensive ways to give your wedding reception a personal touch is with the wedding centerpieces and other wedding table accessories.  From candles to favors to flowers, this is your chance to personalize your wedding.

The centerpiece
One of the first kinds of wedding table accessories most people think of is the centerpiece. Bridal magazines feature spectacular creations with hundreds of flowers, countless candles and expensive crystal vases.
They look awesome, but let's face it — most people can't afford thousand-dollar centerpieces! But take heart!  A tight budget does not condemn you to tacky arrangements of dollar-store silk flowers.  For example:

Who says vases are just for flowers?
Flowers are expensive, so how about filling beautiful but inexpensive glass vases with river rocks, seashells, pine cones or marbles. Fill with water to just above the rocks or other items and float a single perfect rose, gardenia or other flower.
You could even skip the water and flowers entirely and fill your vases with microchips, toy soldiers, Christmas balls, colorful candies, yo-yo's or what ever else makes this wedding uniquely yours. Just fill the vase, add a coordinating ribbon bow, and you have a unique centerpiece.
~
Teapots just for tea?  No way!
Another unique way to add a personal touch to your wedding table accessories is by using familiar things in unexpected ways. For instance, a trip to the thrift store will garner a variety of pretty tea pots, most of them missing their lids. Reuse these castoffs as vases for a loose arrangement of wildflowers, candle holders for tapers (secure the candle in place with stones or marbles) or as the perfect place to float a scented votive.
Grow a garden of love with your wedding table accessories
For an outdoor wedding or an indoor wedding with a floral theme, create a unique but inexpensive decor with centerpieces made from pots of soil, bright and shiny new garden tools and personalized seed packets as wedding favors. Tuck silverware into garden gloves (new, of course!) for a whimsical touch. Choose pots in your wedding colors, or go with traditional terra cota for a more natural look.
Celebrate the seasons –whatever season it may be
Let nature provide the inspiration — and the wedding table accessories — for your reception.
For an autumn wedding, fill pretty vases of different heights with acorns, pine cones, Indian corn, small gourds and nuts. Set them on a small pile of autumn leaves for an instant and inexpensive yet dramatic look.
For a winter reception, select a silver and white theme, with a scattering of shiny silver balls on each table amid blue linens. Adorn each napkin with a snowflake or mistletoe ornament. Add some shiny holly or other evergreens for just a hint of color.
In summer, fill glass bowls with ripe berries, colorful (and edible) nasturtiums and violets or ruby-red slices of watermelon. Or decorate tables with plastic sandbuckets filled with seashell and starfish-shaped sugar cookies.
For the spring wedding, bring in just-blooming branches from cherry trees, forsythia or lilac and stand them in tall, simple vases.

Step outside the box. Farther…Farther….

Who says wedding table decor has to be boring?  FInd things that represent you, your love, your life, and then incorporate them into your wedding decor.  Ten years from now, no one will remember your flowers.  But if you fill a vase with yo-yo's, yours is a wedding everyone will remember with a smile. And they might still have that yo-yo.