What are chocolate bonbons made with
By Catalogs Editorial Staff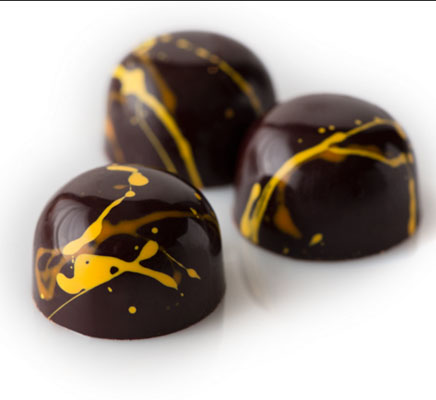 Find out what chocolate bonbons are made with for the luscious flavors you love
Chocolate lovers enjoy their favorite treat in countless forms from pure bars, to perfect pastries and intricate candies. Bonbons hold a special place in sugary hearts for their deceptive simplicity and happy surprises. 
These bite-sized chocolate covered candies are fun to make and a pure delight to eat. If you love them, it?s only natural to wonder what gourmet chocolate bonbons are made with – that is in addition to chocolate. The answer depends on whether you?re referring to grandma?s famous recipe or the gourmet addictions at the local caf?.

The process

The typical ingredients will only become a stunning treat if you know what to do with them. The basic process involves tempering chocolate then pouring it into warmed candy molds. And don?t forget the filling! Adding the filling and a little sprinkle of finesse is the best part.
Technique
Before you continue reading about the What are chocolate bonbons made with there is a special announcement we would like to share with you. Catalogs.com has negotiated special medicare rates for our vibrant community of seniors. If you are over the age of 60, you can head over to our Seniors Health Section which is full of information about medicare. All you need is your zip code and a few minutes of your time to potentially save 100s of dollars on your medicare bills.
Anyone who?s ever tried making chocolate fudge or confections knows it?s a tricky ingredient to work with. It must be tempered with absolute precision, which calls for serious attention to detail and patience. And if the batch goes south, be willing to start over. Improperly tempered chocolate will cause unsightly white streaks.
~
It takes a little practice. Tempering chocolate is more involved than simply melting big pieces. Cocoa butter must be evenly distributed throughout to produce that glossy surface and pleasing snap when bitten into.
To temper, break your chocolate chunks into small pieces and melt half in a bowl placed over a pan of simmering water ? make sure the bowl is steady. Stir a little. Remove from the heat then slowly add in the rest of the chopped chunks while stirring vigorously. Do this for about 15 minutes until it?s shiny.
Onto the good stuff
The answer to what are chocolate bonbons made with is simple. There are two main components: the chocolate shell and sweet filling. Many also like to add a little something extra 
Shell
The shell is made from tempered chocolate. Couverture chocolate is one of the best because it has high levels of cocoa butter. When tempering, be careful not to get a drop of water in the pure mix. Pure chunks are best as chips contain additives that don?t work well for tempering.
Filling
Here?s where things get interesting. There are no limits to what you can put inside a bonbon. None. Popular choices range from ? chocolate ganache (of course), flavored buttercream, marshmallow, preserves, nougat and decadent caramel.
Today?s candy makers and eaters are pretty adventurous and not shy with the booze. Bite into a bonbon made by those who dare and you may just taste coconut ganache with lime and rum, coffee ganache with cinnamon and brandy or even green tea with smooth white chocolate.
Something extra
A sprinkle of sea salt makes exciting things happen in a mouth full of chocolate. The contrast is divine. Pinch a bit in the empty shells before piping in your filling. Tasty alternatives to sea salt include a very slight amount of crispy rice, candied fruit peel or ginger, vanilla bean, ground nuts or nutmeg.
The flavor possibilities of making chocolate candy at home are endless!
What else
Aside from the ingredients, you?ll also need a bonbon mold. These can be found at many chef and kitchen supply stores. And whether bought or made at home, bonbons need to be stored in a dry, cool place!
This classic treat was made for the French royal court during the 17th century and will no doubt satisfy chocolate lovers for many centuries to come. Now that you know what are chocolate bonbons made with, you can create your own tasty concoctions or better appreciate every bite. 
Popular Savings Offers